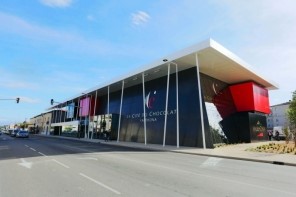 Photo: Cité du chocolat Valrhona
La Cité du Chocolat Valrhona has been awarded « Destination d'Excellence Auvergne-Rhône-Alpes » for the importance and the originality of its offer to visitors.
The Only Lyon Tourism Trophies
were created to promote Lyon region's tourist attractions.
A major site in the region,
la Cité du Chocolat Valrhona
has been hosting more than 300 000 visitors since its opening in 2013.

This year,
la Cité du Chocolat Valrhona expands with a 700m2 floor
and enhances its offers to gourmets.
This new extension completes the 2 000m2 structure dedicated to chocolate and offers visitors a multi-sensory experience.
Tourists discover the multiple aspects of the chocolate industry, the talents of chocolate chefs, learn about chocolate baking and enjoy a 100% chocolate meal.
Each month,
la cité du Chocolat Valrhona offers 40 animations
, gives the opportunity to taste some
20 000 chocolats bits
and invites some 150 participants to a bakery workshop.
Come to La Cité du Chocolat Valrhona and live a fun, educating, original and sensorial adventure.
www.citeduchocolat.com