The initial concept?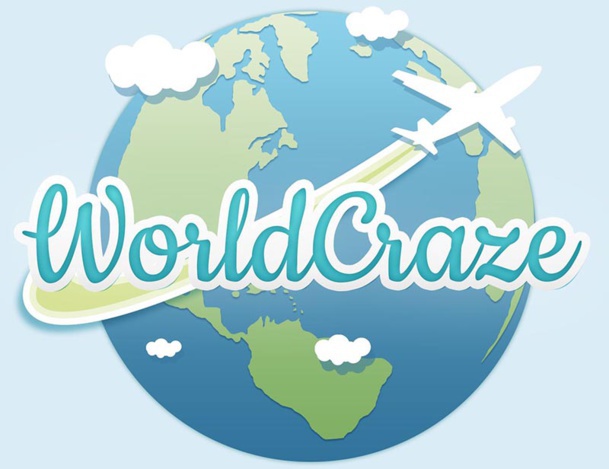 WorldCraze enables you to purchase a tablet from the United States for 30% cheaper or get your favorite English tea that doesn't exist in France! - DR: Screenshot WorldCraze
WorldCraze
is an intermediation platform that enables travelers to be put in relation with people wishing to purchase products that don't exist in their country or that are cheaper abroad.
Thanks to WorldCraze, it is possible to purchase a tablet from the United States for 30% cheaper or get your favorite English tea that can't be found in France!
The start-up helps its users throughout the entire transaction process, from the purchase to the physical delivery of the product.
WorldCraze also guarantees the authenticity and seriousness of all its users thanks to a verification system of their profile: email address, phone number, social networks, and validity of their means of payment.
What "more" for tourism?
The traveler who transports the product makes a bonus of a minimum value to 10% of the price of purchase.

Depending on the price of the merchandize, he can make €30 or even €200! This extra cash enables him to pay back some of his travel expenses.

Beyond the financial advantage, human virtue contributes to the beauty of this service: it's not rare that the encounter between two "crazers" leads friendship, or a convivial exchange between lovers of traveling.

An opportunity to give each other tips on great deals in a destination.

The buyer also has the possibility of ordering anything he'd like, from the latest IT toy to the traditional Brie de Meaux, or the must-have purse of the season.

Thus, all types of geeks, foodies, and fashionistas can enjoy a simple and cheap way to satisfy all of their wildest desires.

There is no specific profile of a buyer at WorldCraze: expat students, globetrotters, immigrants, to each his own products of choice and to each buyer his traveler!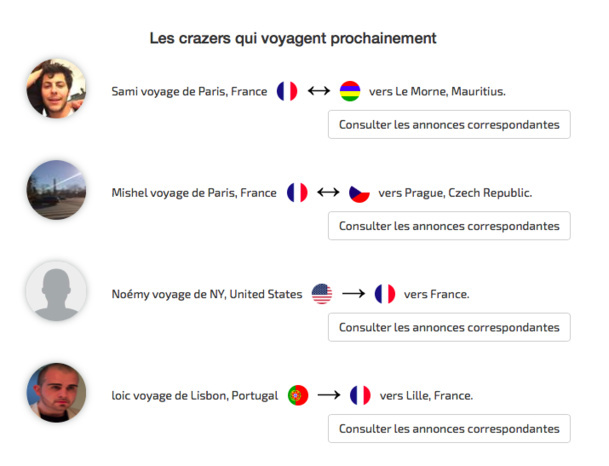 Screen Shot WorldCraze
Who is the target audience?
We primarily target students, expatriates missing local products, or businessmen who travel a lot and want to pay back some of their trips' expenses.

What is your differentiating factor?
For now, we have no real competitor in Europe.

We have an American and Asian competitor who are as big as us, but since they're not on the same market they're not a real threat to us.

We're located in France, in the world's most visited country, in the capital of luxury.

Furthermore, the exchange rate euro/dollar being attractive the value of a transaction is very profitable at the moment.

What more could we ask for to differentiate ourselves?

What is the potential market?
Around 500 million people in the world!

Between the number of travelers per year, and the number of people who buy online, our estimate is quite reasonable.

What is your business model?
Our economic model includes a fixed amount of €2.50, but also around a 10% bonus given to the traveler.

Are you part of an incubator?
No. We were incubated at Startup42, the incubator of EPITA at the start of our launch, but we've set free since then.

Where are you at now with the launch of the start-up?
Our start-up was officially launched in December 2012.

We have been financially independent since the beginning.

Any news to announce?
We're currently developing ourselves in China and Brazil, by implementing communication teams in both countries.

A great opportunity to conquer a new part of the world.

We had a stand at the World Tourism Trade Fair last week in the "Trending and innovative" area.

And the team?
WorldCraze was born out of the initiative of Guillaume Cayard and Frédéric Simons, a partnership that has already been successful in the world of start-ups.

They have two under their belts prior to the WorldCraze adventure.

- Guillaume has a double degree in applied mathematics at UPMC Paris VII and a magister in Finance at Paris II Assas.

Cartesian and logical, he knows how to rationalize each idea and turn it into gold. His charisma and eloquence give him an Oscar as his role as CEO.

- Frédéric, graduate of Epitech (School for Computers and New Technologies) is the 2.0 genius of the project.

Thanks to his in-depth knowledge of IT and entrepreneurship, he creates and transforms as he goes. He is the CTO, but also benefits from a natural sensibility to the jobs of marketing and communications.

The team is then composed of 3 developers (2 web and 1 specialized in iOS), a community manager, and graphic designer.

Additional info
i-tourisme: What drew you to entrepreneurship?

Guillaume Cayard: "Many things gave me the desire to be an entrepreneur! The desire to have my own company and to be able to create my own service. But also, the will to succeed in building a project from A to Z.

i-tourisme: What qualities should an entrepreneur have?

GC: "An entrepreneur should have a good head on his shoulders! You have to be a multi-tasker and be fighting the right battles constantly! If you don't know how to manage and organize yourself, then you won't make it."

i-tourisme: What are your ambitions?

GC: "Becoming the Airbnb of e-commerce and having world-wide success. Yes, just that, we're not very ambitious at WorldCraze!"