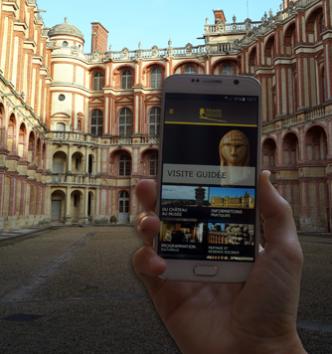 "Discovering the collections" is the first tour offered on the "ArcheoMAN" application.
A true time travel,
the tour begins in the skull of the megaceros of the paleolithic gallery and ends with the weapons of the Vikings from the Middle-Ages.
Of the
museum's 29,000 objects
,
80 are presented via the application
thanks to which one can travel from one geographic zone to another, and from one period to the next, in the span of a visit.
Developed through a Reunion Island competition of National Museums - Grand Palais, this mobile app helps visitors better understand the exhibited objects that can be seen in 3D.
"It is also a top-notch international exposure of our museum, because the app is accessible in the entire world, which makes our collections visible from any country,
explains Hilaire Multon, Director of the museum.
Finally, we can reach out to a younger audience that is connected to the digital world, since young adults and teenagers rarely visit our museum. Usually, we receive visitors who are over 50 years old and young children, who especially come during school trips.

We did not have an audio-guide and it was lacking. With this app, we are making a giant leap forward.

This is a lot more comprehensive than an audio-guide! In fact, we are going to develop an English version by the summer and other languages will be available soon."
Practical Information
ArcheoMAN is free and downloadable on the following downloading platforms:
– Androïd :
bit.ly/1QycN8j
– Apple :
apple.co/1K7ZKZT
Musée d'Archéologie Nationale
Château
Place Charles de Gaulles
78100 Saint-Germain-en-Laye
www.musee-archeologienationale.fr
Getting Saint-Germain-en-Laye?
Road
West Highway A 13, RN 190, RN 13, N 186. 28 km from Paris, 50 minute drive.
Train
RER line A – Station Saint-Germain-en-Laye – Bus RATP 258. 30 minutes from Paris.