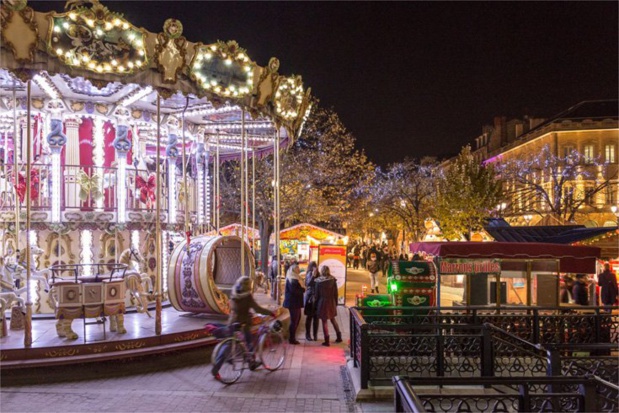 @Bordeaux Tourisme et Congrès
The whole country is dressing up with lights and Christmas decorations to celebrate the Holidays.

Bordeaux is no exception and changes its plazas and streets into festives places with fairs, animations, shows and activities for a magical Christmas.



Christmas markets
For the 22d year, the region's larger Christmas market takes place on the Tourny Alleys.
350 000 visitors are expected
by the event planner, La Ronde des Quartiers.
Up to December 26th, salesmen, craftmen, bakers and farmers will present their products and créations in the
150 cabins
…
An excellent opportunity to purchase original Christmas gifts and to taste savoury delicacies.
Christmas markets are the opportunity for friends and families to have fun and to spend quality time. To drink hot wine or hot chocolate, to enjoy Christmas lights and décorations in a joyful atmosphere.
Santa will ride its carriage
throughout the city spreading the magic of Christmas.

Rides, merry go-round, nativity scenes, clowns, make up artists, music workshops and Santa's house
display a festive atmosphere in Bordeaux.

www.marche-de-noel-bordeaux.com
A cultural Christmas
Christmas won't be the same without shows, seasonal concerts and plays.
Bordeaux' opera features a musical journey during the Holidays with
famous Christmas Oratorio and Christmas tunes - Camille Saint-Saëns
.
www.opera-bordeaux.com

«
Le Père Noël fait son cirque
» at Théâtre des Salinières is an invitation to dream and to laugh. In this show Santa helps a distress circus .
www.theatre-des-salinieres.com
Circus, dance, concert, ice shows
will bring joy to this Holidays Season.
Unusual visits
Opt for a theme and explore Bordeaux's many faces during the Holidays.
Bordeaux Tourism Office offers a visit of divine charaters in the city !
Angels, archangels, séraphins unveil their secrets.
Take a tour of the prettiest Nativities in Bordeaux churches.
www.bordeaux-tourisme.com
Explore Bordeaux whith your senses !
A visit
of a bakery and of the spices markets (where you can get professional tricks to season foie gras) are just a begining.
Duck tasting
follows so you can learn the many way of cooking and eating it.
Then you could opt for a
cooking class
with Sylvie Berteaux. The "A table pour les fêtes" workshop has been created so you can surprise your guests at Chritmas. You will go to the market with the chef, meet farmers, go on a tasting class, then you will cook your meal under the chef supervision.
www.miam-bordeaux.fr