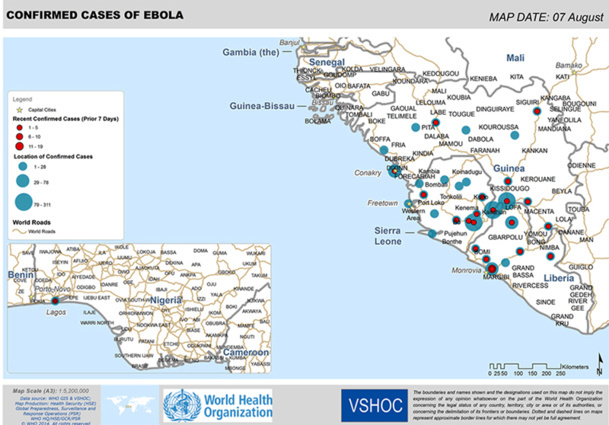 Four countries of West Africa are already affected by the epidemic of the Ebola virus, that has caused 1,145 deaths - DR:OMS
Protect its aircrew personnel and fight against the spread of the Ebola virus.
Such are the preoccupations of airline companies with flights to the countries of West Africa, affected for a few months by the hemorrhagic fever.
According to the last report by the World Health Organization, last updated on August 13th, the epidemic has already caused 1,145 deaths in Guinea, Liberia, Sierra Leone, and Nigeria.
But the WHO insists on reassuring travelers.
Its experts assure that contrarily to the flu virus or the tubercle bacillus,
Ebola is not transported through air
.
Consequently, the risks of transmission on an airplane are very low.
While it doesn't recommend to prohibit trips to the affected countries, it
encourages examinations when exiting international airports
in order to detect possible symptoms of the disease.
On its end, the ITATA also tries to soothe spirits.
"The unaffected countries have to contribute to detecting and containing new cases while avoiding taking measures that will uselessly hinder international travel or business"
has declared the organization on its website.
In France, the Ministry of Foreign Affaire advises against going to Guinea, Sierra Leone, Liberia, and Nigeria.
Some airports are boycotted since the end of July
The airline companies that work in the region have already pulled out of some airports.

The first to have taken such measures are African companies. Arik Air (Nigeria) has announced, since July 29th, the halt of its flights to Sierra Leone and Liberia, followed by its sister Togolese company Asky.

A decision that Emirates has also taken on August 2nd, by canceling its flights to Guinea, the first affected country.

Four days later, British Airways has also temporarily suspended its service to Liberia and Sierra Leone until August 31st.

Cautious, Brussels Airlines has preferred making its aircrew personnel sleep in another West African country: Senegal, Gambia, or the Ivory Coast.

The Skyteam Alliance companies divided on the subject
As for the members of the Skyteam Alliance, Kenya Airways has suspended its flights to Liberia and Sierra Leone since August 19th.
Being the main airport platform in Africa, Kenya was in a state of warning. The government closed its borders with Guinea, Sierra Leone, and Liberia.
As a precaution measure, Korean Air also preferred canceling all of its flights towards Nairobi, where as for now, no case of the fever has been declared.
However,
Air France, has not applied changes to its flight schedule.
A minority union (SNGAF) has launched a petition called to suspend flights towards the affected countries.
The document has for now received 700 signatures.
"Some airline companies have observed their right to retrieve. However, no flight has been canceled for this reason, we have always had enough personnel to fly in full security"
assures Air France.
The company maintains its daily service to the Conakry airport (in Guinea) along with its three weekly flights to Freetown (Sierra Leone).
As for clients, while they have the option of rescheduling their trip or changing their destination at no extra charge, none have decided to cancel their trip.
In any case,
the Paris airport has already taken the necessary precautions
to confront an eventual epidemic in France.