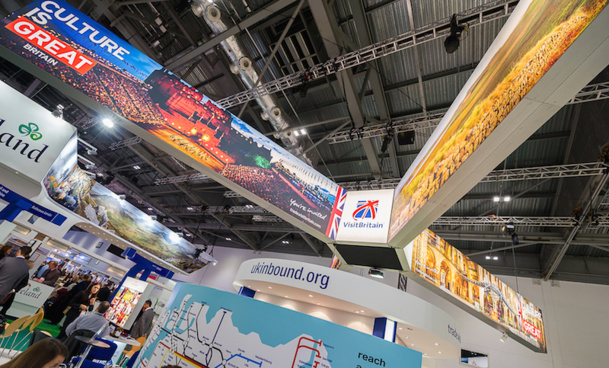 In England, tourism professionals are fighting against high taxes on plane tickets. DR WTM-London 2014
It's not only in France that we complain about taxes.
In England,
tourism professionals are fighting against the Air Passenger Duty (ADP) established in 1994 on all flights leaving from the United Kingdom.
In 2009, four categories were created, based on the distance from London and the arrival destination.
Therefore, companies have
to pay between 52£ (€65) and 388£ (€486) for long flights
.
A rate that keeps rising since 2010, especially on long flights.
In total, ADP should bring in 3.2 billion pounds (€4 billion) in the government's account for the 2013/2014 term.
According to studies made by the World Travel Market of London, these successive increases have made passengers shy away from leaving.
Less than three out of ten British travelers have thought of buying a long-haul flight in 2014 due to the increase of this tax.
More than 60% of professionals fear that a new raise of the tax may also halt the arrival of tourists to the United Kingdom.
Tony Tyler, the CEO of IATA also criticized this measure as
"the most outrageous example of excessive taxation."
Less and less British travelers reserve directly
In front of this threat, the profession mobilized.
The Chancellor of the Exchequer, the minister in charge of the budget, announced that
he would lessen the tax of the last two categories,
concerning destinations located between 4000 miles and more than 6000 miles.
Great news for the passengers who should now save 200 million pounds (€250 M) every year.
Under this change, professionals estimate that 68% of clients would now be thinking of buying a long-haul flight.
Let's remember that in 2014,
eight English out of ten have gone on vacation
, according to numbers published by the ABTA. (See study
here
A higher rate than the French (57%) but that hides various disparities. In fact, the statistics include the "staycation", meaning vacations at home.
Close to 27% only travel in the UK and 41% also leave abroad. A higher rate than 2013 (39%) but still below the good numbers of 2011 (52%).
Let's note that 20% do not take vacation, twice as many as 2011.
20% go through a "street" agency
And those who leave do so less than before: three trips on average against 3.8 in 2011.
An erosion that particularly affects the UK and stays in resorts that attract 38% of clients, versus 41% in 2013.
However, the city-breaks stay popular (42% of sales) just like all inclusive packages (16% of sales.)
As for reservations, our neighbors are now 20% going to physical travel agencies and 25% buy on the website of online travel agencies.
Sales via tour-operators and OTA remain stable.
However, direct reservations with hotels or DMC are decreasing as much for trips abroad
(34% versus 41% in 2013) as for vacations within the UK (45% versus 51% last year.)
"Client don't want to spend too much time looking for their vacations online. They understand the added value of the travel agent"
insures Daisy Parker, Communication Manager of ABTA.
A trend that could possibly cross over to France.