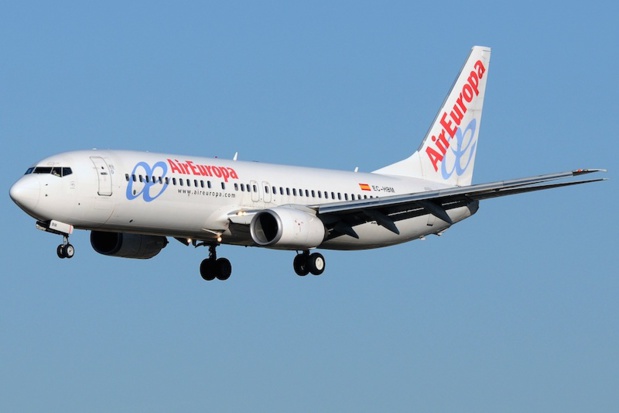 Will Air Europa's planes now be in the hands of the Chinese group HNA? - DR : Air Europa
The rumor was circulating for several months.

According to the Spanish press, the leading Spanish tourism group, Globalia, would be on the verge of being bought out by the Chinese group HNA.

This is the same company that is currently looking closely at Fram's case.

They would obtain 48% of the capital thanks to the acquisition of shares from the banks Unicaja and Banco Popular.

Juan Jose Hidalgo, the founding CEO of Globalia, would maintain control over most of the capital (53.6%) but must guarantee that he will not provide an administrative position to his children.

Gloablia is the leading Spanish group in tourism, as it owns the company Air Europa and the tour-operator TravelPlan.

In 2014, it recorded a consolidated operating income of 185 million euros and is valued at around 2 billion euros according to the owners. The HNA group would be willing to pay only half of that amount.
Multiple participations of the Chinese group in European tourism
The Chinese group keeps on biting into European tourism companies.

In Spain, it already owns 20% of NH Hoteles' capital.

It recently acquired Swissport, the world's leading company in airport assistance and subcontracting, for an amount for 2.8 billion dollars (2.48 milliards euros).

On the French market, HNA owns 48% of Aigle Azur's capital.

It also signed a memorandum of understanding with Pierre & Vacances to develop the same concept in China.

Finally, it is currently looking into acquiring the group Fram in partnership with the network Selectour Afat.

Who will be next in line?