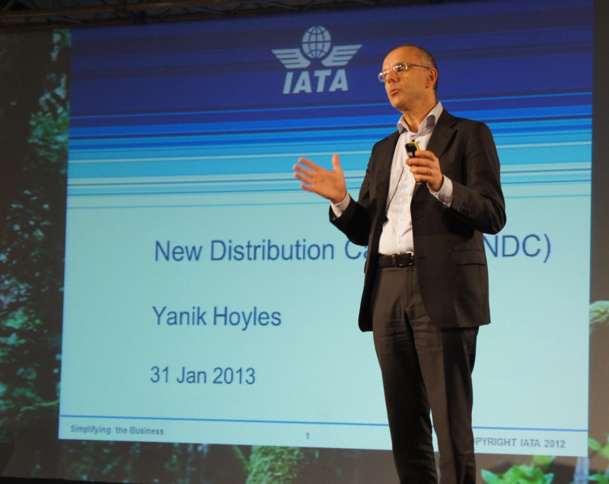 Yanik Hoyles, director of the NDC program in IATA : "We will not reinvent the wheel. We prefer to modernize channels and distribution standards that are now over 30 years old" - Photo EC
The misunderstanding between IATA and GDS is now cleared up.
In fact, the new NDC standard which requires a modernization of distribution channels for plane tickets, has now received
the official support of three operators: Travelport, Sabre, and Amadeus.
However, just a few weeks ago these companies feared that the new standard would threaten their survival and intermediary role with travel agencies.
Yet according the Yanik Hoyles, Director of the NDC program IATA, this fear is unwarranted.
"We will not reinvent the wheel. We prefer to modernize channels and distribution standards that are now over 30 years old."
Because, in fact, nothing had changed for many years. GDS maintained their market according to the stock and flight schedules.
The new NDC standards will now allow
, to refine their search criteria
and provide greater service with added value to travel agencies, according Yanik Hoyles
A flight can now be selected according to options such as lounge access, frequent buyer program, or a company's current offers.
This ensures that the initiative appeals to business agencies, that will more easily find a product in line with their budget and desired service quality. This will reduce extra expenditures by their employees on additional services.
"The GDS will now, more than ever, play an important role as gatherers of multiple options for larger offers"
explains Yanik Hoyles.
A mutual interest for travel agencies and airline companies
The main partners now seem reassured.
Travelport
has declared its support for the standard, ensuring that differences have been put aside.
Same for
Sabre
, determined to work with IATA to develop a single standard for the benefit of travel sellers and buyers.
As for Amadeus, the company is also pleased to continue collaborating with IATA in the technological development of this new standard.
"We believe that this standard will be developed with the perspective of benefiting all stakeholders,"
says Svend Leirvaag, Vice President of the industrial affairs and technological investment sector. "But its acquisition must remain a commercial decision on the part of companies."
Precisely, airline companies, will benefit in applying to this new standard, even if it has never been mandatory.
NDC will allow them to faster promote their new offers which travel agencies are sometimes slow to distribute. Not to mention additional services and options which are often only accessible through direct online booking.
Because in the end, this new standard is not intended to reduce ticket prices, but rather to give them added value. "We must remember that tickets generally cost more through travel agencies than when purchased directly on the company's website," notes Yanik Hoyles .
In any case, the first experiments have yet to be put in place. While the first version of the "air shopping" (information retrieval) is ready, the other aspects are still in the testing phase : booking , payment, ticketing, interlines and company profiles.
Nothing will be completed before 2014. But it seems that the NDC standards are now back on the right track.