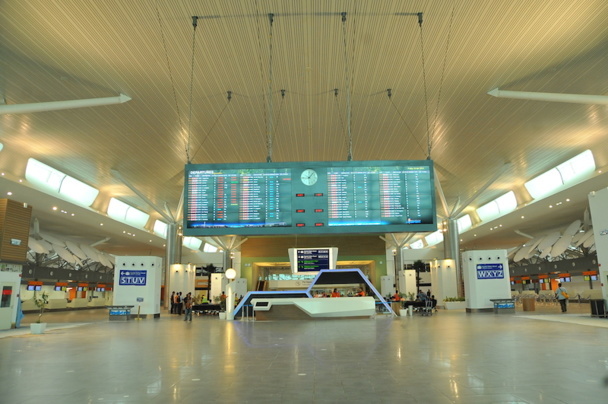 "We are not a low-cost airport!"
Raghbir Singh Bhall, the manager of the new Terminal 2 of the Kuala Lumpur Airport, is a little annoyed by the presentation in the press of the KLIA 2, the acronym given to this new platform.
And yet, this terminal that opened last May was presented as an airport designed for low cost airlines.
Which is false according to our interlocutor. "We welcome anyone who wants to move in with us," he says.
It is true that the place is more of a shopping center than just a large warehouse, which is usually the type of terminal these types of companies have access to.
Modern and well equipped, it is easily accessible by direct train (air-conditioned) from the Kuala Lumpur city center in just 35 minutes for 35 ringgit, around 8 euros.
Inside, hostesses brandish "ask me" signs and are easily available to inform lost travelers in the 257 000m ² maze , 32 000m ² of which is dedicated to shops and restaurants.
"Passengers can dine before boarding on some companies who provide paid services"
admits the manager. A financial bargain for the airport, that will share some of its profits.
A gigantic terminal to support significant growth
In reality, most planes taking off here belong to low cost companies.
The Air Asia group monopolizes 80% of traffic through its numerous subsidiaries: Air Asia X, Zest Air Asia (Philippines), Indonesia AirAsia and Thai Air Asia.
The other operators are on the same model: Lion Air (still blacklisted), Malindo Air, Tiger Air or Cebu Pacific.
These companies have certainly been seduced by cheaper passenger taxes than Terminal 1, and by efficient infrastructure.
Indeed, KLIA 2 sought to optimize its facilities by minimizing the turnaround time of aircrafts. A key to the economic success of the low-cost model.
KLIA 2 is replacing the old low-cost terminal, that was overflowing. It had been built to accommodate 15 million passengers, but was spilling over to 22 million in 2013.
The new terminal was designed for a traffic 45 million people, for a construction cost of $1.3 billion.
Enough to support the future growth of air traffic in Asia.
According to an
Amadeus study
, ticket sales in the region grew by 9% between 2011 and 2012.
Seven of the ten busiest routes in the world (by number of passengers) are located here. And the inclusion of low-cost companies is also growing, from 16.5% to 18.6% between 2011 and 2012.