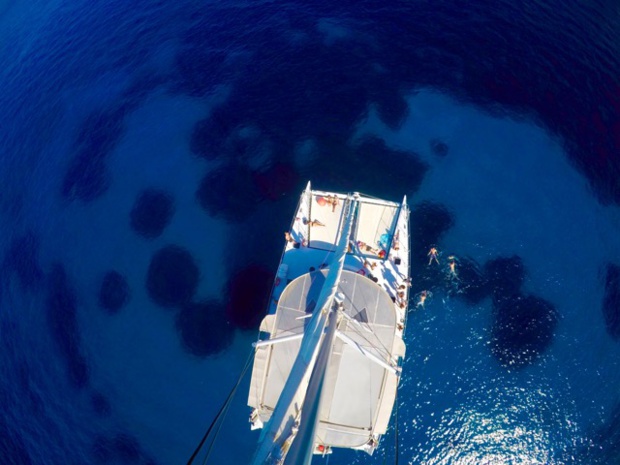 Cruise of the company Le Levantin
TourMaG.com: Can you introduce your cruising company and its concept?

Sylvain Defrance: "The company Levantin exists since over 10 years and offers daytime and evening cruises in the calanque, a natural, prodigious site that is easy to access from the Old Port of Marseille, and around the Frioul archipelago and its famous If Castle.

Our cruises offer a moment of relaxation and leisure surrounded by the blue sea, cicadas and pine trees. An experience to enjoy the serenity of navigation, swimming, and relaxation just like the locals! With no rush…

We serve a very pleasant plancha lunch or a brunch on most of our cruises.

At night, you can choose between a cruise dinner to admire the sunset, on fridays, or a wild DJ night on saturdays if you're in a more festive mood."

TourMaG.com: What makes your cruises unique?

S.D.: "Other than the exceptional landscape that we are surrounded by in Marseille and that is mostly accessible only by the sea, it is surely our catamaran! It is one of the biggest day charter catamaran in the world. It is an exceptional boat created and designed for the receptive activity on board, it's very stable and comfortable.

The boat can host up to 110 people in navigation. It has tables, benches, very large trampolines in front for tanning and a retractable ladder to directly access the crystal-clear water of our calanques.

Almost like a private beach at the heart of the calanques massif!"
TourMaG.com: What are you offering this summer? What are some of your new products?

S.D.: "This summer, our main offer remains the day calanques cruise from 11am to 4pm departing from the Old Port with lunch onboard (masks and snorkel are provided to enjoy the marine life) and we have 2 new cruises:

- Enchanted cruises for children, Wednesdays from 2:30pm to 4:30pm. It is a small 2 hour cruise with a fun and educational show around the theme of Marseille, its monument, neighborhoods and traditions… It is very instructive, even for parents!

- "Sunset Dinner" cruises, Fridays from 7:30pm to 10:30pm

A cosy atmosphere, gentle music, an aperitif with a breathtaking view on the sunset, a swim in the Frioul criques with a plancha dinner under a starry night: in my opinion, we're close to heaven!

TourMaG.com: What do foreign tourists enjoy the most?

S.D.: "We are not a transportation service to the calanques and you will not visit every calanques during our cruises. What we offer is a precious moment that starts right when you take off, a friendly, relaxing journey where even navigating is part of the fun.

And all of that within an exceptional environment…

The calanques massif is one of the most remarkable sites of France. And the best way to explore it is from the sea.

It houses the Cosquer cave, an ornate, submerged cave that is a trace of life from the Paleolithic era, and a particular ecosystem where 83 species are protected or listed as endangered species. 30% of France's Cory's shearwaters and European storm petrels are found in this massif, along with 10% of the Mediterranean shearwaters.

Furthermore, Marseille is a city of rich with history and many monuments testify to this diversity along our cruises. We love to share anecdotes with our passengers."
Practical information
Les Croisières Levantin
Quai du Port - devant l'Hotel de Ville 13001 Marseille FRANCE
info@levantin.fr
Phone: +33 (0)4 91 24 40 40
www.levantin.fr
Rates
-
Enchanted Cruise
: €25 (snack included)
-
Day Cruise
: €69 (lunch included)
-
Half day cruise
: €35
-
Sunset Dinner
: €39 (meal and wine included)
-
DJ Holy Boat nights
: €35 (meal included)
Discounted rates for children, families, and groups starting with 10 people. Free for children under 5.
Getting to Marseille ?
Airplane
Marseille Provence Airport
www.marseille.aeroport.fr
3rd airport of the province: 8.2 million passengers in 2014
1st low-cost air terminal in Europe: mp2 devoted to low-cost flights
www.mp2.aeroport.fr
116 flights operated by 31 companies connecting 25 countries directly and 100 airports:
20 daily flights Paris/Marseille (1h15 flight)
40 regular low-cost destinations in France, Europe, and on Morocco.
8 long-haul flights to Canada, Middle East, Indian Ocean, Africa…
Train
Paris connects to Marseille through the TGV in 3 hours.
www.voyages-sncf.com
Road
Three highways connecting Spain, Italy, and Northern Europe cross in Marseille and place the city at less than one hour from Camargue, from the heart of Provence and two hours from the French Riviera.
North A7–A51 (toward airport, Aix, Lyon)
Access: Gare St Charles, Porte d'Aix
Coast A55 (toward airport, Aix, Fos, Lyon, Montpellier, Barcelone)
Access : Joliette, Vieux Port
East A50 (toward Cassis, Toulon, Nice, Gênes)
Access : Avenue de Toulon, Bd Rabatau