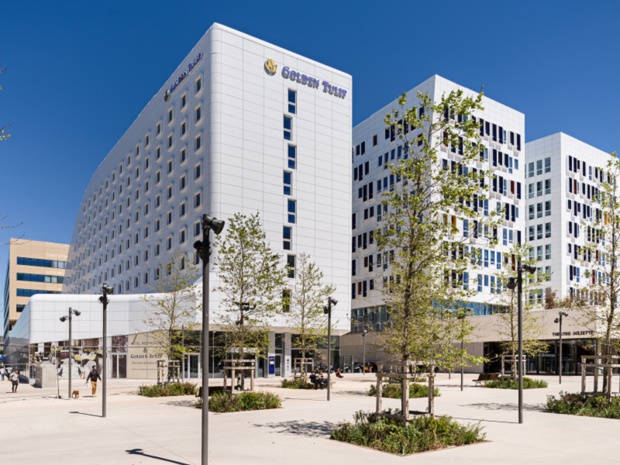 The Golden Tulip Marseille Euromed opened, in soft opening, on Monday, April 18th, 2016. The official opening is scheduled for May 2, 2016 - Photo : Golden Tulip Marseille Euromed
Marseille now has a new 4 star hotel in its center.

The Golden Tulip Marseille Euromed did a soft opening on April 18th, 2016. The official opening is scheduled on May 2nd, 2016.

Located on the Henri Verneuil plaza, at the heart of the Joliette neighborhood, near a business center and several shopping malls, it has 210 rooms of which 104 have a view on the sea. They are spacious with a surface area ranging between 20 to 49 m2.

The director, Christophe Torres, set the goal of reaching an occupancy rate of 50% for 2016. It is already nearing 90% during the time of the Euro 2016.

This facility, designed by the architect Massimiliano Fuksas, offers a service that is adapted to both business tourism and a leisure clientele. It is the second hotel of the Louvre Hotels Group in Marseille, after la Villa Massalia.
4 million euros of investment
The Golden Tulip, the fruit of a 4 million euro investment by Louvre Hotels Group, generates 50 permanent contract jobs, for its business.

All of the employees were recruited locally. The staff should increase to 72 people by 2017.

Starting May 2016, the hotel will open its wellness areas and restaurants to clients who are not sojourning there.

In this way, the people of Marseille and tourists will be able to discover the menu of "La Table."

They will also enjoy the decoration of this facility of soft lines and rounded shapes. Inside, the colors are inspired by the Mediterranean sea with nuances of white, beige, and blue.

Furthermore, the Golden Tulip with soon offer musical soirees in its two bar areas.
7 versatile conference rooms
The relaxation space has a fitness room and
an indoor heated pool of 12 meters.
These facilities are located next to a lounge bar and a large wooded terrace of 160 m2.
This will be the backdrop of monthly DJ parties. An outdoor jacuzzi will also soon be set up.
The terrace and its bar can be made private as part of the conference packages. They can host up to
90 people in a cocktail-dinner format.
The Golden Tulip Marseille Euromed also has 7 versatile conference rooms for a total surface area of 395 m².
Marseille : l'hôtel 4 étoiles Golden Tulip Euromed ouvre ses portes