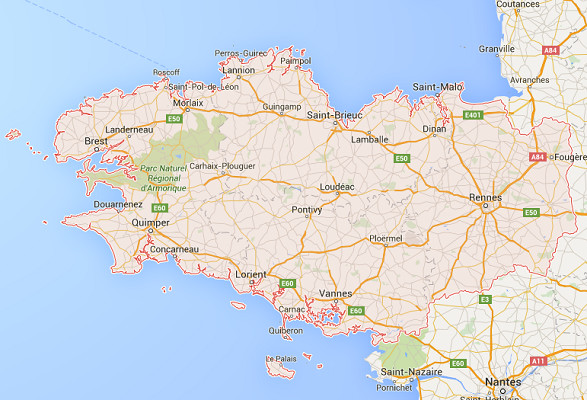 The French are choosing Bretagne for their travels in May 2016 - DR : Google Maps
With some zones having school vacations and holidays, the month of May is generally good for tourism professionals. Usually, it is estimated to concentrate 7% of regional overnight stays in France.
Yet in 2016, school holidays have all ended in April and the holidays of May 1st and 8th fall on a Sunday. Consequently, will May 2016 still be conducive to the French taking trips?
This is what the
Regional Tourism Committee (CRT) of Bretagne
tried to find out. On Friday April 29, 2016, it revealed
the results of a study commissioned by TOLUNA
. It was conducted from April 22 through 25, 2016 among a sample of 1,000 French citizens representative of the French population in terms of sex, age, and region of origin.
The study shows that
35% of the French who were surveyed have the intention of traveling in May 2016, in France or abroad. For France, Bretagne is in the lead for intended destinations (11%).
Yet, it must be remembered that 16% of travelers have not yet chosen their destination. Consequently, many reservations will be made last minute in May 2016.
78% of the people surveyed are contemplating going somewhere else than France.
For 47% of the French who will take a trip in May 2016, it will be a weekend, a long stay of 4 nights of more and for 37% it will be a short stay of less than 4 nights.