Changes after the construction work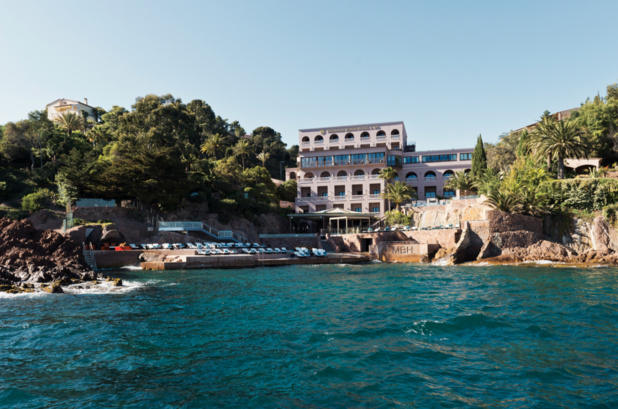 Miramar Beach Hotel & Spa
"The challenge for architects was to transform everything while preserving the building's integrity, by respecting the environment and managing the constraints imposed in this highly regulated zone.

Within the range of colors authorized on the coast, the façades were repainted in gray powdered with pink on the walls, heightened with a sand white color for the moldings, frames, and balcony banisters, which gives it all a touch of blush, a nice complexion, distinct from what is usually seen on the Riviera,"
explains the Director, Jérome Montantème.
To facilitate arrivals and luggage transportation,
the main entrance is now located on the street side.
The
infinity edge pool was entirely renovated
, the garden replanted with Mediterranean essences and the beach was redesigned. More opened and esthetic, it is now accessible to disabled persons.
"The restanque terraces, the garden with daybeds, the beach and the pool can now host up to 100 people during the best hours of the day. Many nautical activities depart from the private creek: jet skiing, paddle boarding, canoe, kayak, and sea fishing,"
adds Jérôme Montantème.
Orientalist decoration and sea view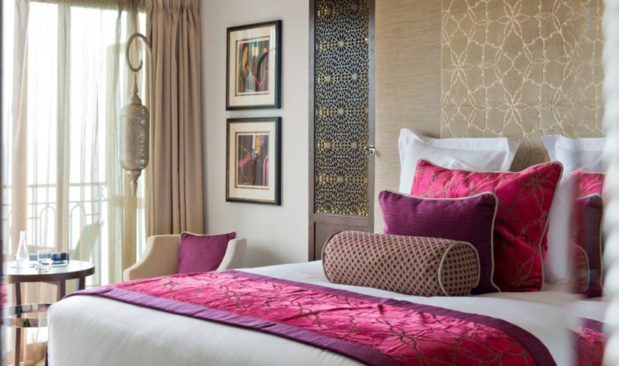 Room with sea view - Miramar Beach Hotel & Spa
The decoration of the rooms, suites, and Villa highlights the refinement of the materials and light effects. Sheer blinds, sofas, queen size beds, thick mattresses, sculpted furniture, incrusted tables, fuchsia velvet bedspreads, soft rugs…

At night, backlit moucharabies on the bed sides and the reflection of hemstitched lamps radiate a cozy bright lace decoration onto the wall.

Thus, evoking the sensation of being in Orient while staying on the French Riviera.

"In total, there are 6 Classic rooms, 7 Superior rooms with terrace, 14 Deluxe rooms with balcony, 19 Prestige rooms with terrace or daybeds at the garden level, 3 garden Junior suites with daybeds, 6 sea Junior Suites with terrace, 3 sea Deluxe Suites with double terrace, one Royal Suites on the 4th floor, and a private villa.

And 80% of the 60 rooms and suites of the Miramar Beach Hotel & Spa have a sea view which is quite exceptional," highlights Jérôme Montantème.
Personalized reception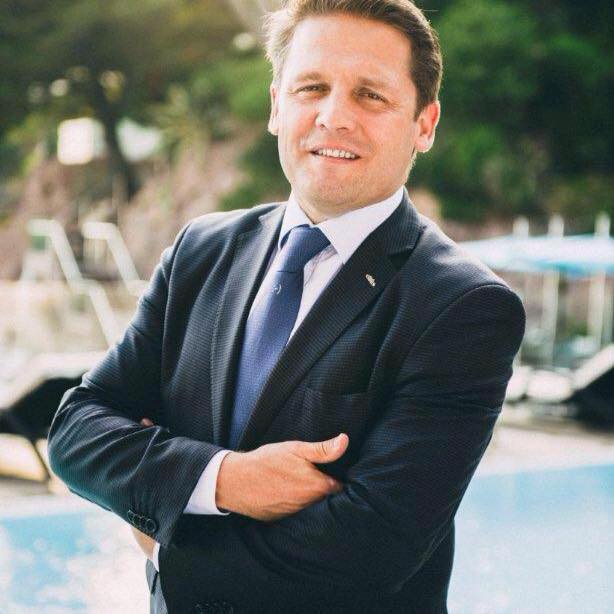 At arrival, check-in is never done at the reception but from the lounge where the client is greeted with a welcome drink.

Service is particularly attentive, including toward children who can pick their game console and request their favorite dish to the Chef.

Newlyweds will enjoy a special reception. The young couple can access the hotel via the sea and a terrace in the gardens is reserved for their guests.

The Executive Director of the Miramar Beach Hotel & Spa, Jérôme Montantème, is a warm, vivid host who makes a point of welcoming his guests like old friends:

"When a client arrives, from the moment he steps onto the property, we want him to feel at home and we do everything for him to feel this way. I pay special attention to personally welcome every client.

Sometimes I share an aperitif or dinner with them. I also invite motivated guests to join me for a morning jog. It is a wonderful opportunity for them to discover our beautiful region between Provence and Grande Bleue. Clients arrive anonymous but leave as friends. And it makes me happy to see them feeling at ease here."

The entire team at the reception also participates in the organization of the clients' activities: sea excursion in the summer departing from the small neighboring harbor, hikes in the Estérel massif, circuit at the Mandelieu-La-Napoule golf course right next door, VIP reception for wine tasting in a nearby cellar, an evening in the most beautiful casinos of the French Riviera, helicopter ride…
The great restaurants of the Miramar Beach hotel & Spa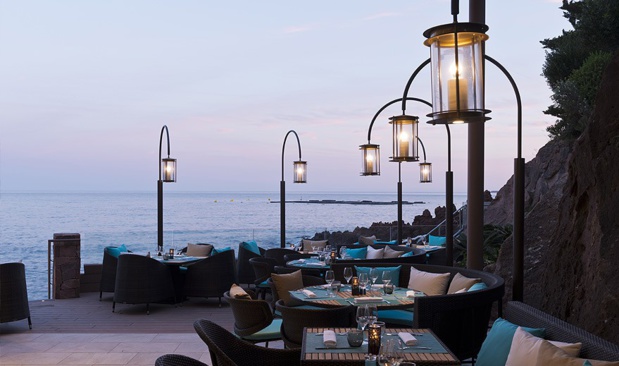 Restaurant Moya
Only opened during the high season, sheltered from the sun and overlooking the water, the Moya beach restaurant is the hotel's key place for all meals but especially breakfast. Its "corners" menu formula enables to invent a different menu every day.

Here, products are selected like at the market: fish selection just like at the fish market, cutting beef pieces in front of the clients' eyes, selecting the poultry intended for the rotisserie, warm breads and loaves…

At night, the decor changes. Lanterns light up, giving way to a musical ambiance with a DJ that instills a lounge atmosphere.

Solely open in the Winter, the opulent Bistrot M offers exclusively Provence cuisine. Wines from the region are paired with products originating from neighboring markets around Nice or Mandelieu, fishermen from the region, local farmers, and local producers of cheeses or olive oils.

Leading the Miramar Beach Hotel & Spa kitchens is the Chef Guillaume Anor who freely expresses his creativity through a revisited Provençale cuisine with a contemporary twist.
A Sothys signature spa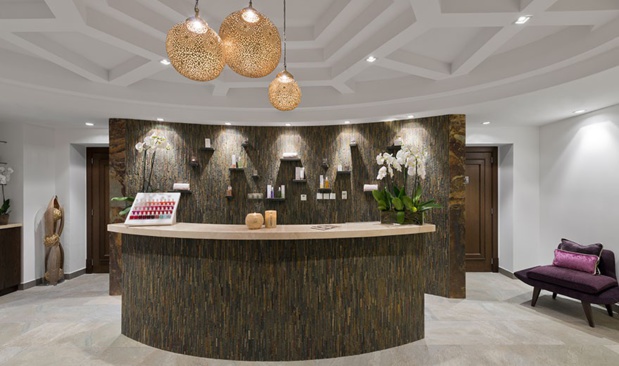 Spa Sothys-Hotel Miramar Beach Hotel & Spa
Expanding over two floors, the Spa Sothys welcomes its visitors on the 2nd level of the Miramar Beach Hotel & Spa.

The lighting is soft and the walls coated with a mosaic imitating paper in which there four cabins with one devoted to duo treatments. There is also a hammam with pearly ceramic, and an authentic Finnish sauna, each can fit up to four people.

Among the extended range of treatments offered, one of the star treatments is "The Orient Ceremony", a revitalizing ritual of oriental inspiration with a prelude, a body scrub of spices (cinnamon, ginger) followed with a modeling treatment with spiced ballotins and warm stones, scented with nutmeg and bitter orange.
A hotel that is also ideal for a business clientele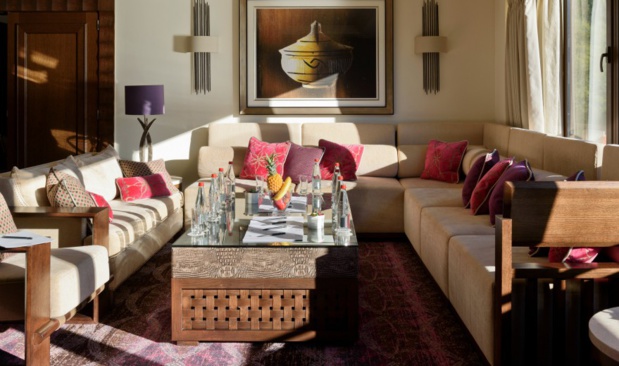 Conference room - Miramar Beach Hotel & Spa
The Miramar Beach Hotel & Spa has three rooms with natural lightning: a room inside the hotel that is perfect for a meeting of up to 18 people and in an additional building, in front of the hotel, a room of 150 m2 that can host a seminar for 80 to 100 people or even two seminars, since the room can be divided in two.

Giant screen, video-projectors are also supplied.

Very pleasant for meetings, the hotel is ideal for "incentive" trips with the Spa, the pool and beach. It can even be fully privately rented out for a seminary with all of the conference rooms.

In close proximity to an airport, this is the prestigious and fun setting that companies could be looking for to host product presentations, fashion shows, seaside cocktail receptions…
Practical Information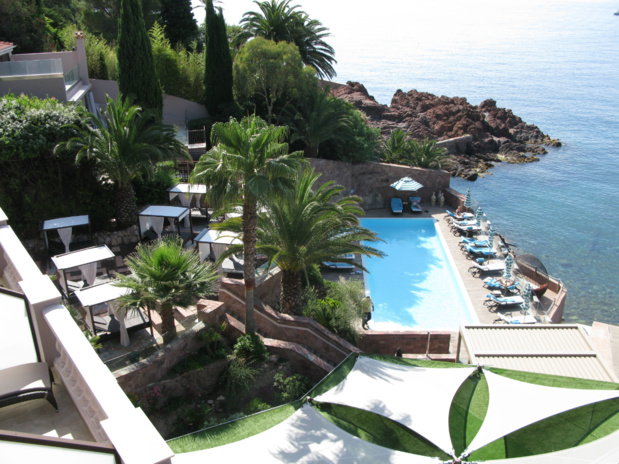 View of pool and sea from the Miramar Beach Hotel & Spa Hotel
Tiara Miramar Beach Hotel & Spa *****
47, avenue de Miramar
06590 Théoule-sur-Mer, France
Tél : +33 (0)4 93 75 05 05
http://miramar-beachspa.tiara-hotels.com/fr/
www.tiara-hotels.com
Rates
Classic Room:
starting at €230 in low season, €550 in high season.
Deluxe Room,
in high season, ocean view: starting at €640 /night
Royale Suite:
€900 /night in low season €3000/night in high season.

La Villa:
starting at €900 per night and €5.000 per week in low season, in high season: €3500 per night, €20.000 per week.
Conference Rooms
3 rooms of 20 and 80 people
Valet parking
Free WIFI all over hotel

Getting to Miramar Beach Hotel & Spa ?
- thirty minutes from the Cannes train station
www.voyages-sncf.com
-Nice Airport is 45 minutes and Mandelieu airport (private jets) in thirty minutes away.
www.nice.aeroport.fr
www.cannes.aeroport.fr/
Transfers possible in Mercedes Class E, Class S, or Mercedes Viano for families.
Driving
Take Highway A8, take exit 40 (Mandelieu la Napoule), then head toward (Bord de mer RD 6098 - les plages). Once on the coast, take direction St Raphaël and follow the Départementale 6098 until Théoule.