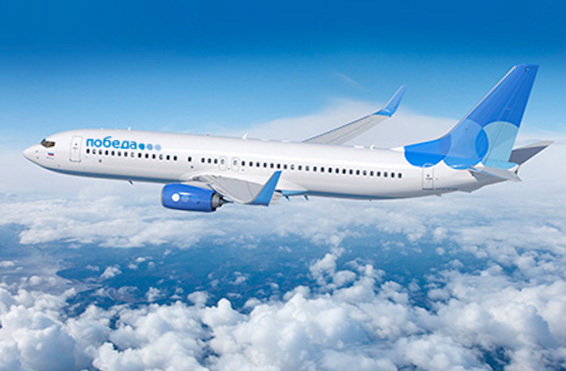 The first Russian low-cost project Dobrolet was cancelled in August 2014 after EU placed sanctions for flying to Crimean Peninsula which in the view of EU facilitated integration of Crimea into Russian Federation. As a result all European partners tore up the contract for planes leasing and Dobrolet was forced to shutdown.

On September 16 Aeroflot registered new airline company "Budget Carrier" that decided to operate under the name "Pobeda". On November 11 they received an air operator's certificate and started to sell tickets. The budget carrier offers daily domestic flights from Moscow Vnukovo airport to eight destinations - Belgorod, Kazan, Perm, Samara, Surgut, Tyumen, Volgogrand, Yekaterinburg. Cities like Kazan and Surgut are not officially yet in the schedule.

Unlike Dobrolet Pobeda is not planning to fly to Crimea as it is seasonal destination that only popular in the summer time. The maiden flight is planned for 1 of December from Moscow to Volgograd. For the first twelve hours new low-cost airline sold 7000 tickets, which is twice as much result of its predecessor. The most popular route is Moscow – Yekaterinburg – the biggest Russian city in Ural region.

For meantime Pobeda possesses 3 planes Boeing-737-800 NG with the new logo of the company that can carry 189 passengers.

The cheapest one-way ticket costs 999 Rubles (17€). This price excludes taxes and additional fees. Pobeda will work at the same model as Ryanair and Easyjet – cheap tickets due to exclusion of checked baggage, alimentation, choice of the seat and other services, in other words low fares for price-sensitive passengers.

The baggage fee depends on its weight. For example 10 kg suitcase is free of charge, but for 15 kg it is necessary to pay 499 Rub (9€) that is half of the price of the ticket. For 20 kg the additional fee is 799 Rub (13€), if more then 20 kg – 999 Rub (17€). Those rates apply only for 2 hours flights, if the flight lasts more than 2 hours the price of the baggage is double.

Pobeda also introduced quite interesting system of choosing seat in the plane. The price will depend on the flight, time of the flight, row in the plane and type of booking. The cheapest seats will be available during early morning and late night flights. Thus the final rate including all additional fees with return ticket will be around 5000 Rub – 7000 Rub (85-119 €) depending on the destination. Which is still much cheaper than travelling with other Russian airlines. For example, returning flight Moscow-Yekaterinburg with Russian S7 Airlines will be around 14 000 Rub (237€).

The company's main goal is to increase Russian citizen's transport mobility and improve transport connections between regions of Russia.

In the future low-cost airline will enlarge number of destinations. By the year 2018 Pobeda plans to realize 45 domestic destinations and 45 international and there will be around 10 millions Pobeda's customers per year, making it one of Russia's top ten carriers.

Luba Selivanova (Groupe ESC Troyes)