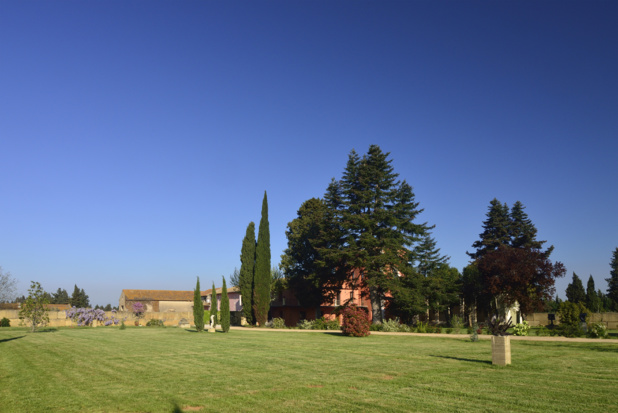 TourMaG.com: Can you tell us the history of La Bastide de Fabrègues?

Chantal Comte: "La Bastide de Fabrègues is an ancient home that my father bought when we were children in 1956. For a long time it was deserted, then it served as housing for the different managers who succeeded one another at the estate, then it became difficult to have it rented.

This is why I decided to retrieve it around ten years ago and transform it into a guest house. First, we had a phase of small construction work, then five years later we did major restorations to give all the comfort and refinement that this beautiful home deserved and turn it into a unique spot of the region.

The story of this home is tied to the economic development of the region with all the economic crises it went through.

Indeed, in the 18th century, the success of silk brought fortune to Nîmes as testify the beautiful private hotels of the city center, which explains why we have an ancient Magnanery and mulberries fields around. Then silk was dethroned in the 19th century by American nylon.

Thus, the mulberry trees gave way to vineyards and the owners of the time built the cellar and added a tower to the old master house in order to accommodate for the workers.

But the wine industry crisis of the early 20th century forced the owners of the time to pull out the vineyards and abandon the cellar.

In the 1950s, my father bought it out to plant fruit trees that also experienced tribulations due to the competition with Spain, where fruits ripen earlier, and this oriented the choice to develop wheat and olive tree farming of which the fields still surround la Bastide de Fabrègues."

TourMaG.com: What are the advantages of your estate?

C.C.: "La Bastide de Fabrègues is an ideal place for resting, at the heart of nature, with no noise other than birds singing. However, many of our clients, golfers and non-golfers alike, wish to spend their vacation on getting in shape over one or several weeks, and to meet their expectations, we recently opened a perfectly equipped fitness room with massage tables, inside la Bastide.

An exceptional masseuse that was trained in shiatsu techniques and Norwegian massage offers in-house massages, upon request. The sauna and swimming pool will offer the relaxation necessary after exercising.

For joggers and biking lovers, the estate extends over 300 hectares of land which will enable them to fulfill their passion! As for golfers, they are a ten minute walk from the Golf of Nîmes-Campagne with which we have an agreement for a significant discount on the Green-Fees prize. And for yoga lovers, a coach offers classes in the garden, upon request."

TourMaG.com: What rooms and infrastructures are you offering?

C.C.: "Nested at the heart of a 10 hectares olive grove, the 350 m² home provides five suites, all equipped with a flatscreen TV with a DVD player and sumptuous bathrooms. The Tower's three apartments are also equipped with a kitchenette.

The home, entirely air conditioned, also offers a large designer kitchen, a laundry area, a separate dining room, a living room with a large library, a bridge playing area, and comfortable couches.

A very design sauna adds to this tranquil setting, calling for rest and serenity.

As for the garden, a cyclopean wall of blonde stones ensures the intimacy of our guests by entirely encircling the garden, just like the indoor parking, in order to not clash with the garden's harmony. The swimming pool also provides complete safety inside its nest of stones."

TourMaG.com: What are some other new products to be expected at la Bastide de Fabrègues?

C.C.: "We have the project of restoring the provencal farmhouse adjacent to the Bastide that housed the former Magnanery, the former cave, and the former oil mill that we recently transformed into a villa «Le pavillon de Fabrègues».

Finally, starting in July, a beauty institute will open just 800 meters from La Bastide."
Practical Information
La Bastide de Fabrègues
4358, chemin d'Estagel
30900 Nîmes
Phone. : +33 (0) 4 66 70 10 55
contact@labastidedefabregues.fr
www.labastidedefabregues.fr
La Bastide de Fabrègues can host five couples or ten people. Weekly rental from Saturday to Saturday. Starting at €2000 per week for the entire home.
In low and mid season, the Tower's apartment can be rented independently from the Bastide starting at €800 per week for two people.
Getting to La Bastide de Fabrègues?
La Bastide de Fabrègues is 5 minutes from the highway exit « Nîmes-Garons Aéroport », 20 minutes from Nîmes and its train stations, 3 minutes from the Golf Club Nîmes-Campagne, 30 min from the beaches.
GPS Details: Latitude : 43.752987
Longitude : 4.386953
Nîmes (Gard) : La Bastide de Fabrègues, une maison d'hôtes entre Camargue et Provence