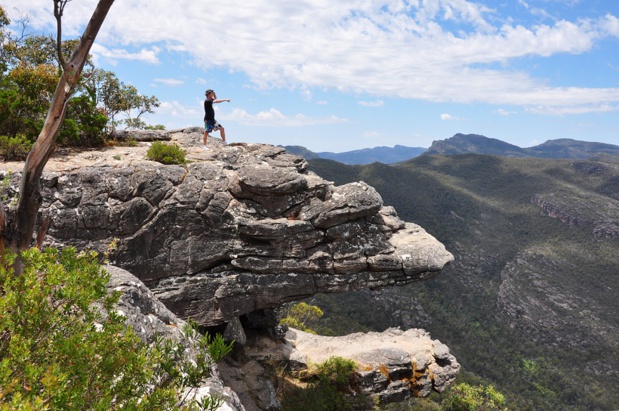 Olivier Caillaud in the Australian mountains during his prospecting trip early 2015. DR Olivier Caillaud.
He's the free spirit of tourism.
Olivier Caillaud, the former director of the production at Nomade Aventure, started working independently in July 2014 with the launch of Oliver Trips, a platform that offers its services to tourism professionals.
An "
adventure factory"
as stated on his homepage.
He has thus become one of the rare freelance producers in France.
While DMC platforms are multiplying, that directly put travelers in relation with local agencies, Olivier Caillaud provides
his contact book, his expertise, and creativity directly to the service of professionals.
"They give me a roadmap to follow to respond to the specific expectations of their clients. The circuits I create are unique every time, there's nothing like this in France today."
Olivier Caillaud negotiates directly with local service providers and presents their bill to the TO.
He's paid on commission or with a fixed price, through the same model as a consultant.
"The money does not transit through me, and I take zero responsibility. I'm an intermediary between the travel agency and local service providers. I negotiate to the fairest and my rates are often cheaper than a DMC."
An excellent deal for TOs that can thus offer themselves, cheaper, a unique production, without having to pay the rates of a prospecting trip on location.
"Today, it is rare for tour-operators to have the time to send their product director to far-away destinations. And even when they participate in educational tours, they don't have the opportunity to create trips off the beaten track, and have to, in any case, call on the services of a DMC upon their return."
Offering a unique production to tour-operators and travel agencies
To seduce hoteliers, car renters, and local guides, Olivier Caillaud provides his list of contacts and his network, built over the span of his 7 years at Normade.
"They are often small structures that do not have the time nor the means to find new clients. I help them develop their activity on the French market."
Various French partners have already instilled their trust in him such as Point Voyages (former Point Afrique), Akaoka along with Destino Mundo.
Some agencies have also contacted him via Linkedin, and he is creating circuits for competition games organized by companies, through a communications agency.
In order to uncover new addresses to feed his production,
Olivier Caillaud has recently finished a 5 month journey in Japan, Australia, New-Zealand, and New-Caledonia.
Far-away countries that he has not picked at random. Difficult to sell, with little disintermediation, they need the expertise of professionals more than ever.
On location, he has traveled locally, testing new public modes of transportation in Japan, renting a camping car in Australia, sleeping in the tribes of New Caledonia or in the wilderness in New-Zealand.
Enough to fill up his contact book and get to know a range of unique addresses not found in the brochures of big tour-operators.
He left with his family, his two young children:
Pablo, 15 months, and Marin, 5 years old. An additional advantage to value his expertise in products aimed at families.
During this long expedition, he was able to put in practice the motto of his website: that of a travel producer who travels to elaborate his trips.
Discover all of his adventures on his
blog
.