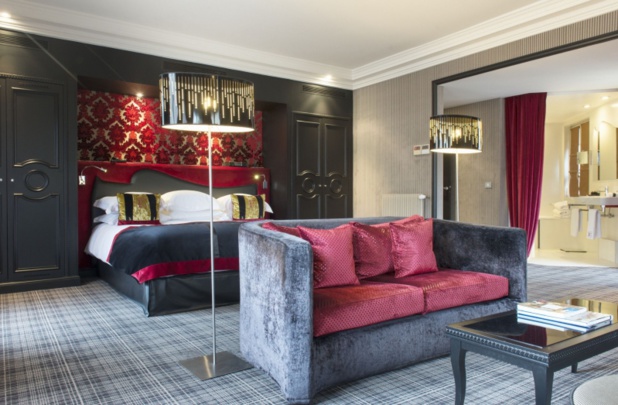 Junior Suite at the hotel Edouard 7
A haute-couture style
The hotel Edouard 7 opened its doors for the first time in 1877.
It was the Parisian home of Edouard 7, the future King of England, a major aesthete, epicurean and lover of Paris. Property of the group Bessé Signature since 2009, the 4 star hotel offers 69 rooms including 10 suites. It was recently entirely redecorated by the designer Christophe Daudré.
"Each room was thought out like a silhouette that needed to be dressed where subtlety and the refinement of the details espouse the theatricality of the materials and rich colors. The designer Christophe Daudré was able to find a unifying thread between contemporary elegance and the traditional style of the place by keeping a bit of elegance à la française. Silk, leather, velvet, cashmere were associated to dress the rooms in heady shades, from green to rubis red, ranging between blue, taupe and gold. In this chic and warm oasis, the guests enter into the world of Edouard VII, just like his personal home,"
explains Emmanuelle Smith, Executive Director of the hotel Edouard 7.
The jeweler world
The four floors of the hotel are inspired by the jeweler world of the famous Vendôme plaza, a few steps from the facility, to create a precious universe. The first floor has sapphire blue tones, the second floor bears emerald colors, the third has white tones with touches of rubis red. Finally, on the 4th floor, with citrine colors, the whole luxury of the place can be felt with rooms painted dominantly in golden yellow.
The mixture of colors and materials offer a true lesson on fashion and celebrate the couture spirit of the Saint-Honoré neighborhood.
Each detail was studied to control the spaces and harmonize the decoration: lace decorates some of the furniture, some walls are padded, cashmere rugs can be found in some of the rooms…
A gourmet restaurant
The facility's restaurant was also entirely redecorated and it provides a both chic and contemporary setting. The "cuisine de l'E7" honors products of the terroir while being full of creativity. The service is particularly attentive and thoughtful.
Informations pratiques