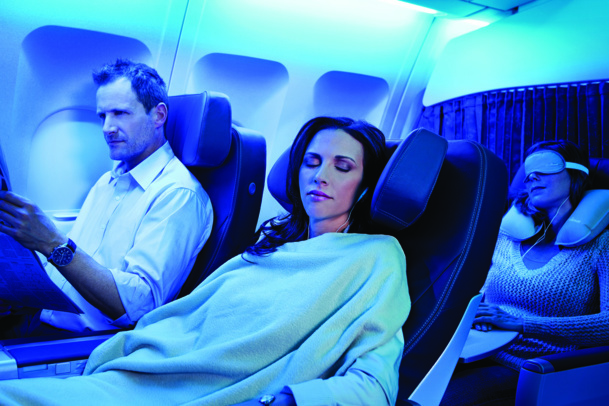 Air Transat's Class Club will attract clients looking for good value for money - DR: Air Transat
Air Transat is one of the leading companies between France and Canada that carried 320,000 passengers in 2013.
On the Montreal line, it arrogates 50% of the market share, with 144,700 seats for the 2014 summer season, of which only 49,300 to Paris.
France was in fact one of the first countries to experience the new design of the Airbus A330-300, fully renovated, with a brand new Class Club.
This category is sold at an interesting price compared to the competition.
During a comparison test, for a flight between July 21st and 28th 2014, the Class Club is sold at €1,450, cheaper than Air France's Premium Economy (€1,693) and the Economic Privilege of Air Canada (€1,662).
However, it remains more pricey than Corsair, that offers its Grand Large for €1,108.
"Clearly, we remain very careful on the prices, but Corsair emitted a lot of capacity through an agressive yield that we just cannot follow"
, admits Lydia Morinaux, France's director.
Passengers who didn't reserve the Club can always do so at the airport through an upgrade for €340 to Montreal, Quebec, and Toronto (€415 to Vancouver and Calgary).
But it is safer to reserve in advance as the cabin only has twelve seats and usually fills up rapidly, especially during the high season.
Attentive Service
The Class Club is designed with three rows of two seats each, located at the front of the aircraft.

The leather seats are 52 centimeters wide with a 91 centimeter long pitch.

The subdued lighting is supposed to help the body better handle the jet lag. But with a 7 hour flight and a 6 hour time difference, don't expect miracles either.

An individual 12 inches touch screen has over thirty films that can be watched thanks to free headphones (costing $8 in economy.)

For those who would rather work, the seat is equipped with an electrical outlet for computers as well as a USB outlet to charge phone batteries.

The service is very attentive with two receptive and smiling stewardesses with an enchanting accents.

Before take-off, an aperitif is offered with champagne, which is actually a delicious Italian Prosecco. Warm towels are also distributed before the meal and snack.
Attract business travelers of SMEs
A toiletry case is also offered with hygiene products (tooth brush, lotion), a mask, earplugs, and slippers.
The fleece blanket wrapped up in a plastic bag can also be taken away at the end of the flight. A blow up headrest is also included in the bag.
The meal is ordered in advance with various choices for the warm dish: roasted chicken with a wild mushroom sauce, pennes with a tomato basil mozzarella sauce, filet mignon cuts with a teriyaki sauce, cacciatore turkey, or bordelaise sauce beef.
The meal is served on a white table-cloth dinner plate, in porcelaine plates. Italian wine, red or white, is offered by the glass, and a digestif after the meal.
With priority check-in, boarding, and luggage delivery, the check-in 40kg luggage limit and 15kg for carry-on,
the Class Club has all of the necessary arguments to attract business travelers of SMEs,
the new target clientele of Air Transat.
All that's missing is a lounge so that they can comfortably wait at the terminal 3.
"Airports of Paris said they were going to open that space in 2015. But nothing is confirmed yet"
, continues Lydia Morinaux.
There is no lounge at the Pierre-Elliott-Trudeau Airport of Montral, other than lounge for all airline companies where the entrance fee is 35 canadian dollars (24 euros).
The Extra Option: a well priced Club service
Passengers who wish for more services without traveling in the Class Club can opt for the Plus Option, offered at 80 euros roundtrip.

This price includes choosing the seat the economy (with a headrest on the seat), and priority check-in, boarding, and luggage delivery.

An extra 10 kilo of allowed luggage is also included, as well as a comfort kit with headphones and a bottle of sparkling wine.

This Plus Option is not available in the GDS. To reserve it, agents must directly contact the call-center at 00 800 87 26 72 81.