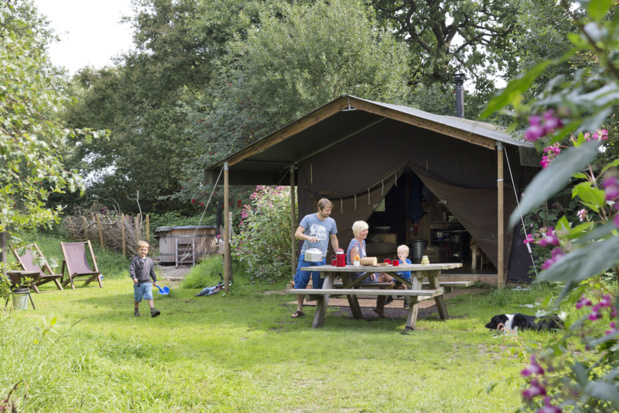 Tent of Un Lit au Pré
TourMaG.com - How and when was Un lit au Pré born?

A.G.: "The concept saw the light of day in 2006 in Holland through a simple idea: offer tailor-made hospitality in the unique environment of farms.

Farmers host clients on their lands by offering them an authentic product in an extremely comfortable setting. Un Lit au Pré is a unique leisure experience, away from the beaten tracks and mass-market products."

TourMaG.com - Why make clients disconnect from wifi and the digital world?

A.G.: "Honestly, originally, this is a request from our clients who are looking to find or rediscover time for themselves during their stay, like allowing room for deeper family connection, or, simply, to enjoy the real rhythm of the day.

In fact, once their phone gets completely uncharged, vacationers often do not feel like recharging it… this is a clear sign!"

TourMaG.com - How many accommodations do you have today and where are they located?

A.G.: "Un Lit au Pré is present in France in six farms: in Normandy, Bretagne, Limousin, and in the Meuse but also abroad in the United Kingdom, Holland, Belgium, Germany, and the United States.

We manage over 400 tents on more than 60 farms with always the same requirements: choosing unique, preserved, and welcoming spaces."
TourMaG.com - How is your service more comfortable than regular camping?
A.G.:
"We host up to six people per tent. Meaning that we need space and comfortable conditions for clients to feel cozy in our tents.
We offer upscale bed sheets, all the silverware and equipment necessary for cooking, candles, wood to make fires… This is the spirit of glamping, camping with a dose of glamour.
In France, we offer two ranges of tents: a traditional one with no hot water. The other, the "Noble Tent" offers a warm shower and several small services to render the stay even more pleasant.
TourMaG.com - What are other added values of Un Lit au Pré?
A.G.:
"The singular experience. You are in direct contact with nature, with those who make it live through their crops and livestock. It is a unique opportunity to regain unexpected contact with the environment in all simplicity, calm, and wilderness. I think that it is not a coincidence that 35% of our clients come back to us."
TourMaG.com - What is your clientele?
A.G.:
"There are two types of vacationers: families with children and groups of friends looking to celebrate a special event, such as a birthday, in an atypical setting, to guarantee a memorable moment."
TourMaG.com - Do you receive many foreign tourists?
A.G.:
"Our product is European, meaning that we touch a wide panel of people attracted to glamping. First in line: the English, Dutch and Belgians, for whom camping in farms is very popular. We also attract more and more German and French visitors."
TourMaG.com - An announcement to make?
A.G.:
"Our company is expanding. Similarly to the countries where we are already established, we will open in new spots. But we are always looking to convince farmers to join us in order to meet vacation requests at Un lit au Pré."
More information:
www.unlitaupre.fr
Un Lit au Pré : le "camping version glamour" plante sa tente en France !