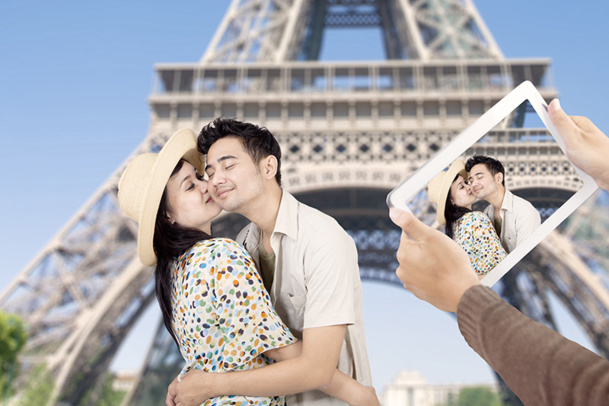 How to convince Chinese tourists to discover something other than the Eiffel Tower? DR © Creativa - Fotolia.com
6,400 Chinese visitors merrily strolling on La Promenade des Anglais…

In May 2015, the billionaire Li Jinyuan, CEO of the company Tiens, invited his best retailers for a week on the French Riviera.

A significant windfall for the city of Nice that estimated the direct economic benefits to amount to 20 million euros.

Today, the Chinese are the world's most sought-after travelers. A market of 1.4 billion potential clients, of which more than 100 million have crossed their country's borders in 2014.

Out of the 1.4 million who visited France in 2014, around 30% went to the province.

These are mostly "repeaters" who come back for the second or third time, but for whom the stays remain quite short: one to two nights only.

To expand this market, the province airports are trying to convince airline companies to launch charter flights, even regular scheduled service.
Charter flights to test the market
Julien Boullay, Marketing Director of the Marseille Provence Airport, is in full negotiation but would rather remain discrete on the topic.
"Obviously, the Chinese market is of interest to us and we have contacts. We would like to do the same thing as in Korea that will have eight charter flights this summer."
The Toulouse airport and its new Chinese shareholder seems, however, more advanced. It should welcome several charters this year and promises regular lines by 2018.
"The establishment of direct flights towards China is, of course, an important project for our new shareholder,"
confides Jean-Michel Vernhes, the President of the Toulouse-Blagnac Airport Management Board.
"But Chinese tour-operators are tough businessmen who are particularly sought-after."
A similar echo at the Nice airport that believes that Chinese companies are already very solicited and
primarily looking toward North America.
The lack of popularity inhibits development
Today,
six Chinese companies
possess the rights to fly to France, including four for passenger traffic (Air China, China Eastern, China Southern and HNA).
They can land in three Parisian airports as well as in six cities of the province. In exchange, three French companies have rights toward China: Air France, Air Austral and Aigle Azur. The latter does not use these rights, due to a lack of agreements for flying over Siberia.
Thus, there is no legal prohibition to the opening of direct flights toward the province. But to convince Chinese professionals, French cities need to become popular abroad.
This is far from being the case, according to Catherine Oden, Director of the Atout France office in China.
"Due to the lack of popularity of the French province in China, the number of potential clients is insufficient to justify the opening of direct flights."
Michel Madi, CEO of Frenchy Travel, agrees with this observation.
"Other than Nice, French cities have no image on the Chinese market, contrarily to others like Milan that is connected to fashion, Barcelona for partying, or Geneva for luxury. These cities have invested large marketing efforts and very often attend major trade-fairs in Asia."
If flights between the province and China remain rare, it may simply be due to a lack of potential, according to Jean-Louis Baroux, former President of APG and air transportation expert.
"If there was a market, it would be known, and Air France would have already developed direct flights. Why take a financial risk with a charter contract when there are many lines via the Gulf countries and other European hubs?"