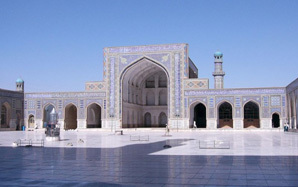 One of the oldest mosques in Afghanistan, Masjid Jami (Photo: Wikimedia Commons)
Paradoxically, this lack of stability, prosperity and democracy, added to the strongly misadvised of foreign offices and ministries of Foreign Affairs, does not completely disadvantage the attraction of tourists. The last figures demonstrate a significant increase.

As proof, bookings for group tours to Afghanistan have doubled in 2014 (Source: The Guardian). This may be due to different elements. The first one is the existence of specialized tour operators, like British Hinterland Travel or Wild Frontiers. Those sell packages, which propose for example 20 days trip throughout Afghan hotspots. More than a cultural discovery, it turns itself to a unique human experience meeting with locals.

The tendency of travelling in dangerous and war zones is growing. For this reason, Afghan lands attract some independent travelers, willing to live an off-limits adventure. Most of them are well-read people who are looking for a deep understanding of cultures and people.

Furthermore, beyond the sad reality that Medias convey, this country is blessed with cultural, historical and natural resources that they desire to see with their own eyes. Before being a country in war, Afghanistan is above all a country with magnificent heritage and landscapes.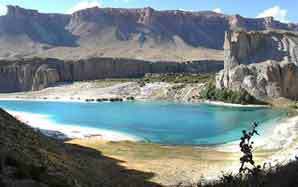 Band and Paneer Lake in Hindou Kouch's mountains (Photo: Guidevoyages)
The singular and positive experiences of those tourists permit to give a better image of this niche destination. Why taking the risk? The answer looks obvious to them, because Afghanistan is an amazing country which deserves to be known.
Nowadays, the number of travelers is really limited. No precise data is made to evaluate the numbers of arrivals. Nevertheless, all of the visitors contribute in their own way to the valorization of the country and highlight positive aspect, hidden behind the violence of war.
The road ahead is still long to consider Afghanistan as a destination in its own right. Indeed, accommodations meeting standards, safety activity, secure borders and easy access are missing. However, even if Afghanistan will not only rely on tourism to boost its economy, once some peace returns, the beauty of this country should be truly appreciated by consumers and investors.
www.dailymail.co.uk/travel/travel_news/article-2889853/Bookings-adventure-trips-Afghanistan-DOUBLE-curious-travellers-defy-Foreign-Office-advice-pay-5-000-visit-troubled-country.html
www.nytimes.com/2013/01/13/world/asia/taliban-targets-tourists-but-some-still-visit-afghanistan.html?pagewanted=all&_r=0
Margaux COLLIN
(
collinmargaux@gmail.com
) –
Alizée LAMOUR
(
lamour.alizee@gmail.com
)