Unspoiled wilderness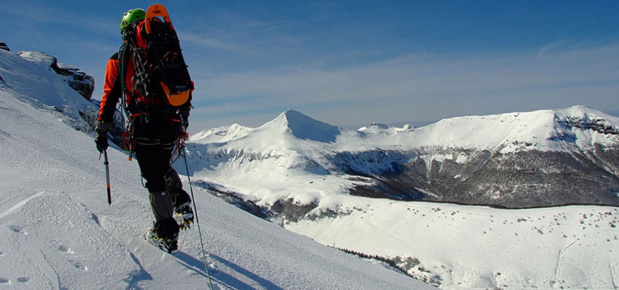 Cantal Massif (photo: Vincent Terrisse)
Cantal is often nicknamed "the country of large spaces" due to its large plateaux and multiple valleys. In the Winter, these mountains covered in a snowy coat, far from urban pollution, are conducive to a total escape.
"Cantal is a unique mountain destination
, explains Sylvie Favat, Press Relations and Snow Sector of Cantal Destination Manager,
because it is a volcanic massif that provides the same climate conditions as the high mountains in the Winter.
The large plateaux overlooking the glacial valleys are shining in whiteness, and the steep slopes are adorned with ice waterfalls. Swept by the winds, the snow piles into dunes and the landscapes remind of the Arctic and the vast, far-away areas of Spitzberg."
Winter sports for everyone
The first skiable area of Auvergne is the Lioran Station
that expands over 150 acres, from 1,250 to 1,850 meters in altitude.
With over 20 ski lifts including 1 aerial tramway, its skiable area offers 44 slopes for 60km of sliding.
"It is an ideal station for a family experience, that offers the possibility of skiing on a wide range of spaces,"
states the godmother of the ski station, the champion Carole Montillet.
Indeed, children can enjoy a
decent sized and qualitative structure with 3 ski schools
, and a new beginner space has been developed. Finally, the
free-ride zones
, the snow-park, the boarder-cross, and the big air will delight the more reckless bunch.
The Cantal Volcano also provides an
excellent area for climbing
because its ice waterfalls are a lot more accessible than in the alpine massifs.
These mountains contain all of the ingredients necessary
to practice mountaineering
with the diverse terrain, snow, ice, and rocks for a solitary adventure atmosphere.
Another popular sport in Cantal is
cross-country skiing
. Enabling to explore vast panoramas of the mountain while alternating with the descent of steep slopes. For the more motivated souls, it is possible to take a cross-country skiing tour over several days in the Cantal with nights spent in refuges or even igloos.
Highlight of local cuisine
Vacations in Cantal's mountains is also a dreamed opportunity to discover traditional Auvergne local cuisine.

The Cantal is the only French department to carry the name of a cheese. Its exceptional local produce elevates it as a place of choice amongst the French regions known for their cuisine.

On the menu, visitors can enjoy many specialities: truffade, stews, Saint-Flour white lentil soup, raclettes with cantal and saint-nectaire cheese… Everything paired with surprising Auvergne wines, and a glass of gentian liquor for apéritif!
Practical Info
More information:
www.cantal-destination.com
Getting to Cantal
By Car
With a privileged geographical location at the heart of France thanks to several major road axes that link to Cantal: Paris - Clermont-Ferrand - Barcelona (A71 - A75), Paris - Limoges - Toulouse (A20) and Bordeaux - Clermont-Ferrand - Lyon (A89 - A72)
By Plane
Aurillac-Tronquières Airport. 1h flight from Paris.
Daily Paris-Aurillac Flight:
www.hop.fr
By Train
Aurillac, Murat Train Station
The Lioran Ski Station has a Train+Ski formula departing from Auvergne, Limousin and Midi-Pyrénées train stations. Thus, one can hop off the plane and directly take a ski-lift, this is unique in Europe.