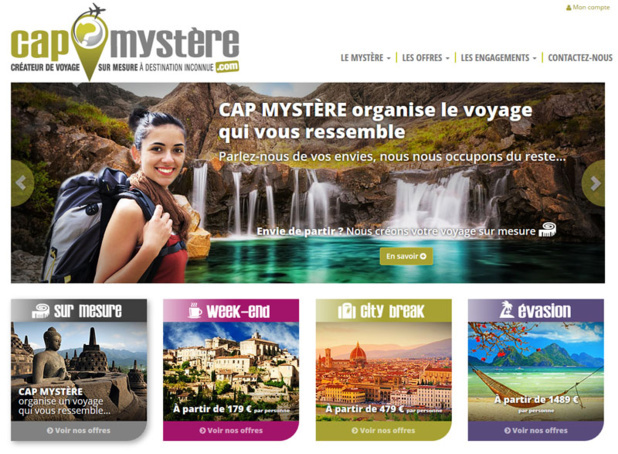 The travel agency Cap Mystère now has a website- DR
Traveling without knowing the final destination?
This is the concept offered by
Cap Mystère
. Launched last September by two young entrepreneurs, Nathalie Lafay et Arnaud Huilin, both 27 years old, this travel agency creates "mystery" trips.
To elaborate the trips,
the clients have to fill out a rather comprehensive questionnaire beforehand: budget, criteria on leisure, preferred accommodations, constraints on flight hours, already visited destinations, restrictions linked to vaccines or visas…
From these answers, the team of Cap Mystère establishes a travel program, in connection with DMCs, and provides a quote without revealing the location but that includes the number of activities, nights, and meals.
"Nathalie worked with different tour-operators and already has a list of contact of local agencies,"
explains Arnaud Huilin.
"As of today, we offer around fifty destinations, from the weekend in France to a long-haul destination in Australia or America."
Clues and a "mystery" enveloppe to open at the airport
To pack their bags, the travelers are given a few tips: clues in a riddle format, weather information, and the equipments to bring for the activities.
A last "mystery" enveloppe to open at the airport contains the airplane tickets, and a Petit Futé guide on the destination. It is just a few hours before stepping on the plane that the clients finally discover their travel destination.
"Of course, nothing keeps the clients from opening this last enveloppe before the airport,"
grants Arnaud Huilin.
To this day, Cap Mystère counts 120 clients or 60 confirmed files. The agency hopes to seduce close to 150 clients its first year of business.
To get out there, Arnaud Huilin focuses on word-of-mouth:
"Our clients' feedbacks are very important. The majority of our "mystery" trips remain weekends for now. Our clients test our services on small budgets, this is normal."
The agency also offers traditional customized trips…
And in this case, the two founders don't hold back from using their trademark and to spice up their offers…by adding one mystery day or activity!