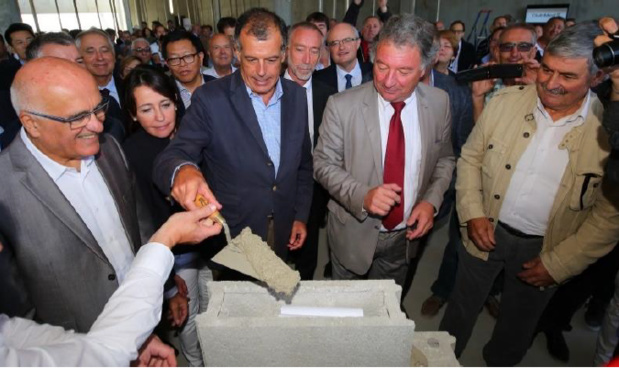 Henri Giscard d'Estaing, President of Club Med and Jean-Jacques Grandcollot, Mayor of Samoëns along with Alain Dénériaz, Mayor of Morillon, officially « placed the first milestone » of the Club Med Samoëns Grand Massif - Photo Club Med
Club Med announced the opening of its new Mountain Resort, Samoëns Grand Massif, due in December 2017.

The construction of this 420 room resort began last May. 45 chalet-apartments will be added beginning December 2018, which will lead to a total capacity of 1,100 tourism beds.

For the partner investors, Foncière des Régions and Assurances du Crédit Mutuel, and the bank consortium, animated by the Crédit Agricole des Savoie, this construction project represents a total investment of nearly 100 million euros. Part of it will be financed by the funds of half Foncière des Régions and half Assurances du Crédit Mutuel.

Club Med announced that this project will enable the creation of around 400 direct jobs and as many, if not more, indirect jobs.

Furthermore, a development and modernization project of the ski area of 70 million euros is expected between now and 2021 by Grand Massif Domaines Skiables.
New facility in the Arcs 1750 in 2018
Beyond the opening of this new Resort,
Club Med is scheduling the opening of a new Resort per year in the Alps starting December 2017.
In anticipation to this program of new openings, the trident brand is renovating its current village of the Arc Extrêmes for the Winter. Then, it will open a new facility in the « Arcs 1750 » in 2018 and two others in the Alps, currently being selected, for openings expected between now and 2020.
As soon as September, Club Med will launch a digital advertisement campaign in France highlighting its snow offer.
Le Club Med ouvrira son nouveau resort Samoëns Grand Massif en décembre 2017