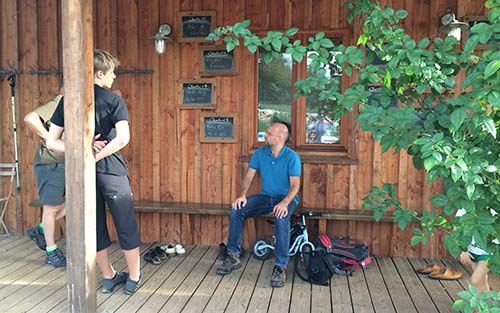 Ecoasis
Rooms and infrastructures

Ecoasis can comfortably host around thirty guests in its 10 rooms that provide a pleasant view on the Causses; the rooms are decorated in earth tones and themes, with material respectful of the environment. The restaurant serves healthy and responsible cuisine.

Adjacent to the lodge, a meeting room, that is both bright and spacious, is devoted to gentle activities (yoga, qi-gong…) and for hosting professional seminaries, meetings, etc…

This ecological lodge that is located on the GR65, the Santiago de Compostela Road, offers a break to pilgrims, but is also ideal for groups of athletes (hiking, cave diving, mountain biking etc…), celebrations, and, of course, tourists on vacation.

An ecologically committed place

This home with 500m² of living area was created with a two-fold objective : search for the greatest autonomy possible and maximize the limit of its ecological footprint.

Concretely, this translates into a bioclimatic conception that integrates a solar boiler, wooded pellet heating system, phyto-purification sanitation system, rainwater collection, and is also reflected in the supply mode of the products used (short chain, healthy and local products…)

"Mindful of the current environmental challenges, it was important for us to build our home in a respectful manner with an architectural conception based on bioclimatic principals (full south exposure with large openings for an optimal capturing of the sun's heat…) and usage of renewable energies (solar heating, wooded pellet heating system, bio-compatible electricity…)

This lodge also operates in a sustainable manner thanks to dry toilets, reduced consumption of drinking water, phy-epuration gray water treatment, and rainwater collection for outdoor irrigation," explains the director of the Ecoasis lodge.

Practical Information
Ecoasis
Puy Clavel
46160 Gréalou
Phone: +33 (0) 9 50 07 74 66
www.ecoasis.fr
Rates
Per person:
starting at €21 per room for 2 or 3 people and starting at €15 for 4 to 5 people.
Getting to Ecoasis?
On foot
Ecoasis is located on the GR65 in an area called "Puy Clavel", 20 km after Figeac and 1 km before Gréalou.

By car
From Figeac: take the D19, toward Béduer/Cajarc, after 17 km turn left toward "Puy Clavel", Ecoasis is located at the top of the hill named Puy Clavel.
From Toulouse (150km): take the A20 toward Limoges and take the first exit for Cahors (°58). Then follow the direction of Lalbenque on the D19, then Varaire, then Limogne en Quercy, then Cajarc, then Gréalou. Make sure not to exit the D19 and you will reach your destintion. 1km after Gréalou, take a right toward Puy Clavel and you will have arrived.
Train
The closest train station is in Figeac. Then, take a taxi to reach destination.
Ecoasis: un gîte écolo au Parc Naturel régional des Causses du Quercy