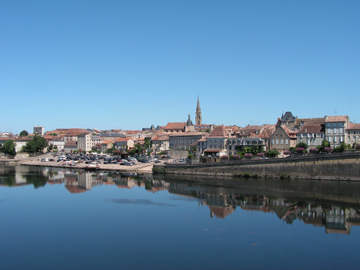 On August 20 and 21, at the heart of the Bergerac vineyard and departing from the Monbazillac castle, the Vintage cinema biking trail will offer two days of cycling on vintage bicycles. The older the bicycle, the better!

"The trail has three loops of different lengths and difficulty levels, but beyond the athletic component this event is meant to be festive and pleasant.

Tasting stops and activities like swing concerts and outdoor movie screenings are also in store.

And wearing vintage clothes is part of the concept. Participants will have to respect the dress code imperatively: they'll need to dig out their old clothes and their most beautiful grand-mother accessories for this unique and retro gathering in Dordogne," explains Micheline Morissonneau of the CDT Dordogne.

Practical Information
www.cine-passion24.com
Getting to Dordogne?
Driving
From Paris
From Paris (500 kms) •Paris-Limoges A20 then Limoges-Périgueux RN21
or
Paris-Poitiers A10 then Poitiers-Angoulême RN10 then Angoulême-Périgueux D939
•Bordeaux-Périgueux A89/RN89 (120 kms)
•Bordeaux-Bergerac D936 (100 kms)
Train
•Périgueux - Paris : 4h15
•Périgueux - Bordeaux : 1h15
•Périgueux - Toulouse : 3h
•Périgueux - Lyon : 5h
Ticket reservation :
www.voyages-sncf.com
Airplane
• Bergerac Dordogne Périgord Airport
Route d'Agen - 24100 Bergerac
Phone. 05 53 22 25 25
e-mail : aerobergerac@dordogne.cci.fr
www.bergerac.aeroport.fr
• Périgueux-Bassillac Airport
24330 Bassillac
Phone. 05 53 02 79 79
www.aeroport-perigueux.com
www.aeroport-perigueux.com