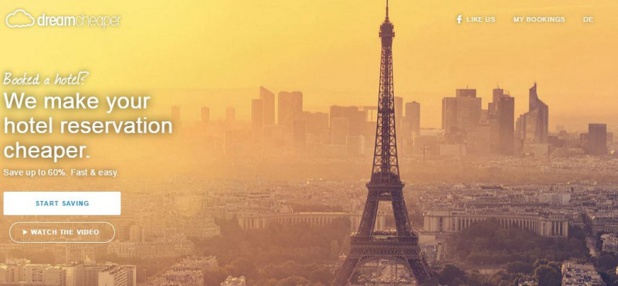 DreamCheaper works like a tracker of the best rate of a hotel room, after the reservation has been made.
Various players are on the market of comparing touristic services before a trip.
The German start-up,
Dreamcheaper
, is committing on the other hand, to play a different game, that of after the reservation.
Using the strategy of traditional comparators, the Berlin startup works as a tracker of the best price in the hotel sector, after the reservation has been made.
What's the idea? Just make a hotel reservation on the website of your choosing, making sure that it is refundable at no extra fees, then transfer the confirmation email to the address e-mailhotel@dreamcheaper.com.
Then, the website scans the offers thanks to algorithms, and looks for a price lower than yours. It scans the websites of online travel agencies, those offering discounts.
"We look everywhere on the web for find better rates. We have links towards the API of most of the sources. This enables us to check the rates frequently,"
explains Nathan of DreamCheaper.
When a user makes a hotel reservation online, the price displayed fluctuates depending on elements that determine the prices randomly: time of reservation, number of available rooms in the hotel, the demand…
If a price difference compared to the original reservation is observed, the website commits to canceling the reservation of the user, and secures a new one for him to benefit from a better price.
This can be done up to the evening before departure.
Two chances out of three of getting a better rate
The goal? The client keeps the same hotel, on the same date, but with a price that could be up to 15% in savings, on average.
According to the startup, there would be two chances out of three of getting a cheaper rate.
For this service, the website retains a 20% commission on the amount the user has saved.
Since the launch of the platform in 2014, it is counting 5,000 users, and anticipates a significant increase of users in the next few months, as stated by the website L'Atelier.
"For now, it is only available in German and English, but it should be translated in a few languages in the upcoming months, including French,"
t confides a member of the team.
A concept that proves to be beneficial to the client, and that could be extended to other sectors.