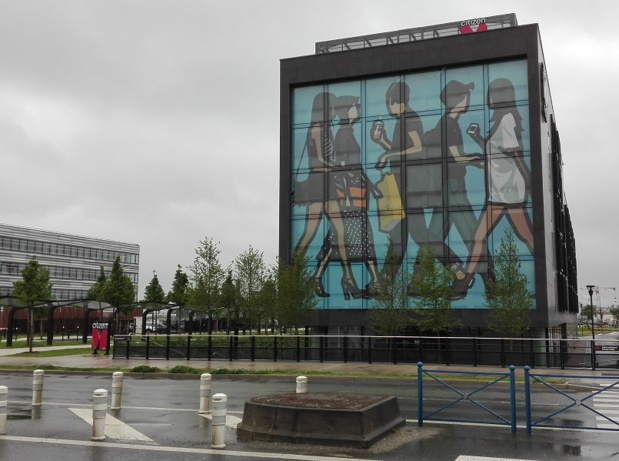 The Citizen M of Paris CDG is an imposing rectangular building - Photo : P.C.
Upon stepping into the imposing rectangular building that houses the
Citizen M Paris-Charles de Gaulle
, we don't really know what to expect.
Once inside, the traveler's eyes are immediately attracted to
the long very colorful designer bar
where many of the hotel's clients discuss or relax, with a glass in hand. We almost forget to go through the reception to join them as quickly as possible!
Which would be a shame because it is worth the detour. At the Citizen M Paris-CDG, travelers are not greeted from behind a counter. No, here, to save time,
travelers check in themselves through touch screens
on which they just have to type in their name or reservation number. This allows them to know their room number and to activate their key in the form of a smart card.
Check-in is possible starting at 2pm and, theoretically, with this system,
late-night arrivals are not problematic.
Guests just need to inform the hotel's personnel.
Unfortunately, the computer system that handles the check-in, normally in one minute, is not fully reliable. If it crashes, the client will have to call one of the hotel's employees for help. Too bad for that time saved.
The multifunctional tablet
With the key in hand, it's time to reach the room. To get there, we'll go through work spaces with computers connected to printers available for use. In front, travelers in transit lounge on giant, very comfortable seats and couches. Others read one of the many books made available to them by the hotel.

The bedroom is a modern space with a mixture of different materials: wooded floors, PVC for the furniture and even leather for the headboard. The toilets and showers are isolated in a semi-transparent bubble that regularly changes color through light effects. The whole room feels like embarking inside a space capsule.

The shower is very pleasant with two modes: a classic shower head or rain shower head.

The "King Size" bed takes up the whole width of the room, in the back, facing the entrance. A very large window hangs over it, and on the left there is a large flat screen TV.

Inside the room, a touch-screen tablet allows to control the TV, lighting and air conditioning. Upon exploring its content we notice that it also has a few surprises. Like the possibility of choosing the room's ambiance. There are 5 mood options, with specific music and lighting: festive, relax, romance, business, and cinema.

Because the touch-screen tablet offers not only the possibility of listening to the radio or check programs available on Apple TV, but it also has a wide range of recent French and foreign films and even a selection of adult films. Everything is entirely free and visible on the TV screen.

There is also free WIFI access without needing a password. Do not expect a speed of light connection but it remains quite good.

As for the office, several power outlets are set up with some to the United States, United Kingdom and European norms. USB ports are also available to charge and connect electronic devices.
No room service at Citizen M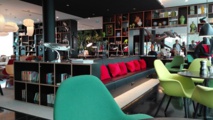 The Citizen M Paris-CDG provides work, relaxation, and eating areas on the ground floor - Photo : P.C.
For eating, the
Citizen M Paris-CDG does not provide room service.
Guests must go to the downstairs floor to eat or have a drink.
The hotel's
restaurant serves hot meals until 11pm.
For late-night eaters, there are salads, sandwiches, and meals available for purchase and a microwave open 24/7. Furthermore, fridges are available in the rooms with a free small bottle of water.
The brochure provided to clients states
"the hotel has everything you need to rest between two flights."
On this point, the facility perfectly fulfills its mission.
Without overdoing it either since there is no pool, no spa, no sauna, nor fitness room. There is just enough to rest, relax, and maybe converse with other transiting travelers.
Additional optional services are also available:
dry cleaning, laundry, alarm, taxi reservation, luggage storage…
For departure, check-out must be done before 11am. The procedure is quite simple: just scan the card-key at the reception. Then you'll receive a departure confirmation and can print or send the bill by email.
The Citizen M Paris-CDG is easily accessible in 20 minutes from terminals 1 and 2 of the Roissy-Charles de Gaulle Airport by taking the free CDGVal shuttle.

The hotel has 230 rooms spread out over 5 floors. They can host 2 people maximum. It is impossible to add an extra bed.

Rates vary between €89 and €249 per night. For breakfast, expect €14.95 in pre-reservation and €17.95 on the same day.