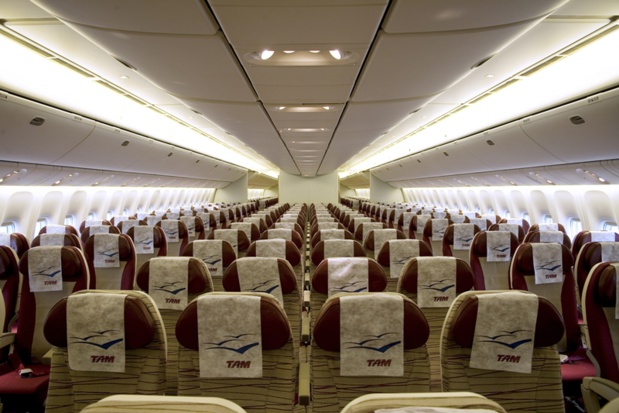 TAM's economy class offers a perfectly reasonable comfort for a long night flight - ©Crédito Marcio Jumpei
There are many options for the traveler wishing to get from Paris to Rio de Janeiro.

First of all, Air France, as the only company operating a direct flight.

Then, there are the American companies, unbeatable in terms of rates, but a lot less in terms of travel time.

We can also go through London or Madrid with the group IAG, or Portugal with Tap.

But to cross the Atlantic in one sitting from Paris, I opt to travel with TAM, Brazil's biggest company.

Associated since 2012 to its Chilean sister company, LAN Airlines, the group announced on August 6th its full fusion and the creation of one single brand by 2016: LATAM. The fleet will be repainted in the next three years.
Comfortable seats for a long night flight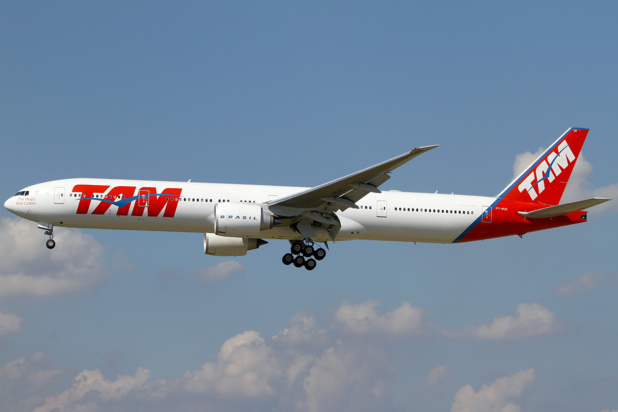 The colors of the Boeing 777 that links Paris to Sao Paulo should soon change with the creation of one single brand. DR TAM
The flight between Paris and São Paulo takes off from Terminal 1 of the Charles de Gaulle airport, which enables passengers to enjoy the Star Alliance lounge, that was renovated last year.

A comfortable place that offers a rather simple choice of restaurants and a succinct range of options at this late hour of the evening.

The lounge is located before the security check point. Better not stay there too long before boarding.

The plane takes off at 11pm, an ideal time for a night flight of 11 hours. The aircraft is a Boeing 777-300 endowed with a rather comfortable pitch: 32 inches for economy seats and 34 inches for economy plus.

It is set up in 3x4x3 rows of 323 seats. A blanket, pillow and small travel case containing a toothbrush, comb, socks, and pen, await passengers on the seats.

The company could maybe add some earplugs to mute the conversations of loud neighbors.
A very strenuous connection in São Paulo
The range of films to choose from is wide, with several new Hollywood movies that can be watched in English, Portuguese, or Spanish, with Portuguese subtitles. For passengers who are not multilingual, they'll have to do with two films in French: Entre les Murs and Lulu Femme Nue.

But I don't have time to enjoy a movie screening since I fall asleep right after takeoff.

I also miss the meal that must not vary much from the one offered on the return flight: salad, choice between ravioli or beef dish, and chocolate cake.

I'm barely woken up by breakfast served in dimmed lighting, very pleasant for tired eyes. On the menu: fresh fruit, crackers, and a small warm ham sandwich.

The aircraft lands on time at the International Airport of Guarulhos, TAM's hub.

First disappointment: we are not at the contact and we have to reach the terminal by bus. It is around 6 in the morning and I have a little over two hours to make my connection. I thought I would have ample time to enjoy a coffee and stroll around the duty free stores.

Unluckily, I waited almost 1h30 before crossing the border police. Some passengers, also on a connection, asked the airport personnel to pass through more rapidly, unsuccessfully.

The customs officials are far from being as picky as in the United States. They are simply not staffed enough to manage all of the morning arrivals.
The group hopes to promote its network in South America
After going through passport control, I have to retrieve my two luggages that were removed from the conveyor belt. Indeed, TAM allows to check in two luggages of 23 kilos each.

A rather generous policy considering that Air France offers two luggages of 32 kilos, only if the first flight departs from Brazil.

Then, I have to queue again to go through customs officials, who, luckily, do not have the time to inspect the content of my bagages full of cheese and charcuterie forbidden to import…

After that, I head to the check-in counter to ensure the transfer of my belongings where I also have to wait in line. Here also, it is impossible to go in front of other passengers, despite my flight's imminent departure. The airport personnel guarantees that I have enough time.

I still rush to find my boarding door, that, fortunately, is not far away. But I am the last one to board the plane nonetheless…

This difficult connection at the Guarulhos airport somewhat tarnishes my great experience onboard.

And it is quite a shame because the group hopes to promote its large network of destinations in South America via its São Paulo platform.

Thus, it is recommended to plan large to have the time to reach your connecting flight without needing to worry about missing the plane.