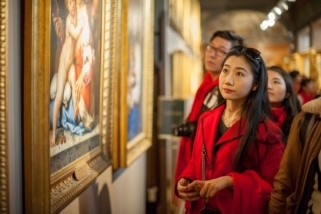 Photo CRT Hauts de France
"The Regional Committee of Tourism of the Hauts de France is looking forward to developping its economy overseas. Knowing how much the tourism industry impacts the economy, we naturally seek for new opportunities abroad. The Europan market represents 70% of the tourism industry in France. We do consolidate this touristic demand and we also look into other markets. In China, 300 millions of people are ready to travel to Europe and most precisely to France. In India, the government encourages the population to travel to Europe for a cultural and an economical openness overseas.

Now is the moment to invest time and energy to attract visitors to our destination. For that purpose we need to better understand the markets'demand.



Focused and targeted actions
To that end we work with colleagues and associates natives from these countries or who have lived there. They help us to better apprehend Indian and Asian travellers' needs.
For instance, we now know that it is very important for Indian tourists to take part in an activity, to look at spectacular landscapes and to eat fresh local products. Chinese visitors know their History very well and they appreciate when they can associate it with the History of the regions they visit. With regards to food, we need to understand it is impacted by religious traditions in the Indian culture and we need to give this information to our restaurants so they can adjust to the customers demand. In China, number 4 brings bad luck, so it is better not to provide a chinese visitor with a hotel room with this number... This information is very important if we want to host chinese and indian travellers.
We train our staff locally and we sensitize the hotel and restaurant industries on Asian and Indian habits and customs.
We also create new itineraries to meet these markets' expectations.
Indians like to be active travellers so we offer them the opportunity to take part in a macaroons confection workshop. They like fresh local products and we take them on a winery tour or to visit a farm and to taste foie gras.
Seduced by Paris' glamour, Asian and Indian tourists also want to add an authentic experience in another region to their trip to France. We will be pleased for istance to have them meet with a master-cheesmaker or to discover the process of Champagne production.
At Hauts de France region we tailor our offers to appeal the Asian and Indian customers.
We understand it important to Chinese visitors to compare their culture to ours. We will then take them on a tour of imperial houses featuring China porcelain or Asian decoration (
La Grande Singerie
in Chantilly), attend a tea ceremony or we will take them to visit Amiens cathedral where a chinese show has been shot.
We give the floor to TV and film celebrities. We know how important they are to Chinese and Indian cultures. Clips and films involving celebrities have a tremenduous impact on Asian and Indian populations. Should they comment on their experience in our region, they are sure to seduce the crowds. We expect a lot of those shootings. Lately a bowllywood film,
Befikre
, has been made in France. Itineraries are created to follow the film's locations.
The Hauts de France destination multiplies initiatives to appeal Indian and Asian tourists. We hope they will enjoy their experience and that they will promote our region when they go back home.
On their end, China and India fully appreciate the economic issues related to tourism overseas. Both countries are in demand of partnerships and cultural and touristic exchanges as it could lead to potential mutual investments. With this respect, it is fondamental for both these countries and the Hauts de France region to create long lasting trusting relationships".
French version