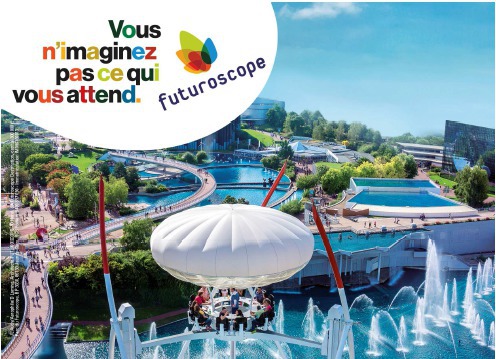 The Futuroscope is expecting to keep growing in 2015 - DR
In 2014, the Futuroscope welcomed 1,650,000 visitors, meaning 200,000 more than in 2013. This increase in visitors is due, in part, to the success of the attraction "The Time Travel Machine."
The average spending in the boutique has increased by 20% in one year. Two trends that enabled the amusement park to register an increase of 15% of its business turnover to 90 million euros. It now ranks as the 2nd most popular amusement park in France.
A growth that it hopes to maintain during its 2015 season that will begin on February 7th, 2015.
For this, the Futuroscope hopes to develop "a more participative offer, more festive that goes beyond the
"all images" approach to offer visitors an experience that balances sensations, live performances, and discovery,"
explains a press release.
For this, the park will open a new attraction based on sports and entertainment: the Arena, fun Xperiences, that will be inaugurated on February 7th.
In total, 9 activities make up an athletic park that extends on 1000 m2: timed descents on a 13 meters high "free fall" slide, sliding down giant spiral slides (to measure adrenaline!), a rugby pushing drill (to measure power), an activity with flashing lasers (to test reactivity), basketball on a trampoline (to test relaxation), Mind Ball (to measure concentration capacity) etc…