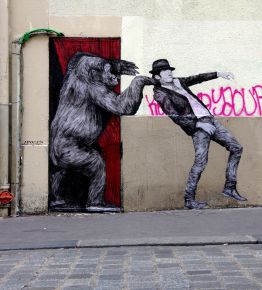 42, the computer science school founded by Xavier Niel, Vice-President of the parent company of Free, will become a hybrid place hosting the first permanent exhibit of street art in France with the project art 42.

By presenting a collection of urban art in such an unusual place as the 42, Nicolas Laugero Lasserre, a collector and lover of street art, wished to create a bridge between the two worlds of the street and museum.

"Urban art conveys a universal message that often stimulates to rethink society and the essential values for humanity.

For already ten years, urban art took ownership of the world's biggest museum: the street. This shows that art doesn't only emerge from the top classes of society, but also from the bottom.

The project art 42 has the intention of making this art accessible to a wider audience, since there still isn't a permanent exhibit in France, in order to increase its visibility," explains Nicolas Laugero Lasserre.
Practical Information
42
96 Boulevard Bessières
75017 Paris
Metro / RER : Porte de Clichy
www.42.fr
www.art42.fr
Open to the public for the b[Nuit Blanche starting Saturday October 1st 2016
, then every Tuesday night from 7 pm to 9 pm, and
every Saturday from 11 am to 3 pm.
Guided visits organized by passionate mediators.