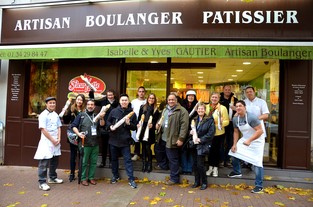 Photo OT Roissy. The delegation of international clients pays a visit to Gauthier Bakery during the 4th edition of FMH
Winner among 8 competing destinations (Le Havre, Montpellier, Nancy, Nice, l'Occitanie, Disneyland Paris & la Vallée Village, Paris) Roissy OT welcomed visitors from Canada, de l'Espagne, des Pays-Bas, du Royaume-Uni et également de Chine to take them on an exclusive tour of the Village.

Foreign visitors were able to appreciate the variety of the offer, visiting la Boulangerie Gautier de Roissy (where they took part in a "baguette" workshop), the Château d'Ecouen, the Cité du Cinéma, the EuropaCorp CINEMAS (showing a film) and the Aéroville Mall.

Clients were particularly impressed with the ITC (International Trace Center) showroom, a Canadian guest qualified as a "very impressive and promizing project".

Other visits included the Relais Spa and the Marriott, French gastronomy at the Nautilus restaurant (part of Oceania Hotels group).

They also took part in an oenology session with cheese tasting at Mercure hotel.

International clients were seduced by this « atypical French village so full of opportunities and so close to the airport ».