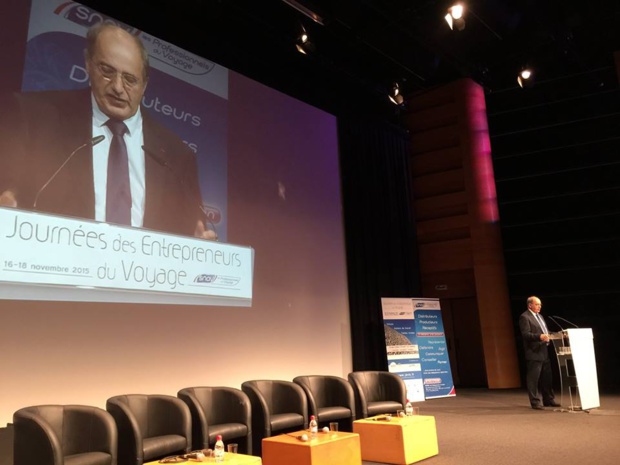 Jean-Pierre Mas, President of the SNAV, calls for resistance to terrorism. DR-JDL
It is with a heavy heart that the
National Union of Travel Agents, of the French acronym SNAV, kicked off its annual conference on Monday, November 16 in Marseille.
Its president, Jean-Pierre Mas, insisted on maintaining the event, that was renamed the Day of Travel Entrepreneurs, in spite of the
deadly attacks that have left the capital mourning on Friday, November 13.
"Terrorism is now part of our environment, just like car accidents. This is no reason to subject ourselves. In front of these barbarians who want to bring us down our answer is simple: we gather here, all united."
A minute of silent was held and every speaker paid tribute to the Parisian victims, especially to the Reibenberg family, owner of the restaurant Belle Equipe on rue de Charonne, one of the sites of the shootings.
Partners rejoice over sales via travel agencies
"I wanted to attend, in spite of the events.

We must always resist and never step back in front of these savages,"
states Frédéric Gagey, the CEO of Air France.
He came to applaud travel agents for their excellent sales, that have reached
3 billion euros this year.
"You are essential partners to our activity."
However, he confirmed that Transavia will not be part of the agreements that SNAV signed with the company.
Fabien Soulet, Director of Sales at Travel Agencies and Companies of the SNCF, who replaced the General Director Rachel Picard at the last minute, also rejoiced over the performances of travel agencies.
Indeed, they reaped the best turnover of the last five years, accounting for
1.3 billion euros, equaling a 4% increase.
He specified that the new convention signed with the SNAV will enter into force early 2016.
"We now want to enhance the advising role of travel agents on products with high added value, such as business products, or first class sales,"
explains Fabien Soulet.
"You are important bridges in developing these sales."
Financial guarantee: selling points to clients
On his end, Raoul Nabet was satisfied with the turn taken by the financial guarantee.
"Instead of condemning the protection costs of consumers, our profession should rejoice over this. In the current context, it is a strong selling point to clients,"
assures the president of APST.
He specifies that his association is far from being doomed, and will represent
4/5 of the market by the end of 2016.
"When we think that last year, doomsayers were predicting a true defection of our members."
Finally, René-Marc Chikli, President of the SETO, highlighted the reinforcement of its collaboration with the SNAV, around the financial guarantee for instance, or on a revision of the Ministry of Foreign Affairs' website.
"We would like to succeed in materializing this union in the form of a confederation of tourism jobs,"
he assures.
A major topic on which all of the 400 participants will be able to deliberate over during the next two days.