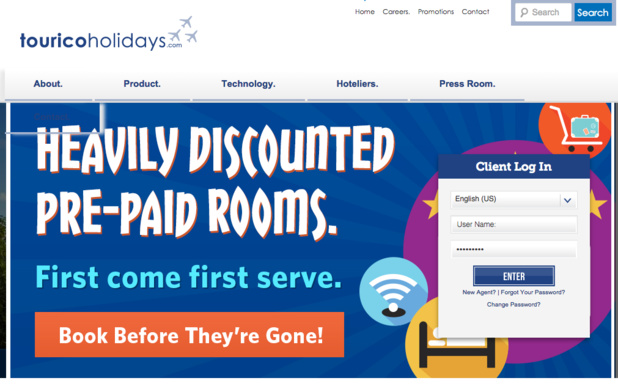 Tourico enables agencies to reserve close to 50,000 hotels on its B2B website. DR-site Tourico
There is an increasing number of tour-operators who sell dynamic packages and "à la carte" products.
To do so, they must pick and choose in different hotel wholesalers that all promise to provide them with the best rates.
Amongst them is Tourico Holidays, an American group that opened its French office in 2013.
Located in over one hundred countries, last year it sold close to 250,000 hotel rooms in France, including 85,000 on the outgoing portion.
It acquired earnings of €40 million and is expecting to end 2015 with close to
€50 million in revenues.
(figures for France and Benelux.)
"We have progressed greatly and it is rather normal because we didn't really tap into the market before being present in France,"
explains Astrid Simo, Sales Director for France and Benelux.
Hotel purchases at the best rates
To stand out from other hotel wholesalers, Tourico puts the emphasis on its entirely B2B positioning and its commitments.
Indeed,
it purchases rooms from partner hotels
in order to secure the rate and availability.
Thus, it can negotiate exclusive deals with close to
400 establishments
out of the 50,000 featured in its catalogue, that account for
40% of its worldwide business revenues of 1 billion dollars
, last year.
In 2016, Tourico will be the exclusive B2B provider of the Hyatt Regency Paris Etoile hotel, where it buys 120 rooms daily.
A financial risk that enables it to offer
interesting rates
, even last minute, and, more importantly, availability in major cities where it isn't always easy to find a room, like in Paris.
In fact, the French capital is the fourth best-selling destination, but it stays far behind New York.
"Originally, we are an American DMC and we are very credible in the United States. But today, Europe is important for our development,"
adds Astrid Simo.
In fact, the group has just signed contracts with Air Berlin and El Corte Ingles.
In France, it is working with around
thirty tour-operators
like Jet Set, le Cercle des Vacances, Directours, Promoséjours, Alba Travel.
The team would like to seduce new clients and particularly TUI, with whom it is already collaborating on the Dutch, German, Belgian, and Italian markets.
Something that may enable a new spurt of growth in France.