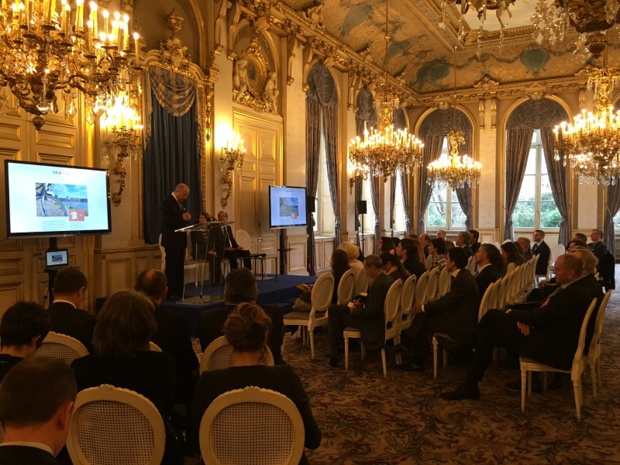 Laurent Fabius officially opened the first portal devoted to wine tourism - DR: Atout France
In the splendor of the Republic, in the lounges of the Ministry of Foreign Affairs,
Laurent Fabius officially opened the first portal devoted to wine tourism.
"Tourism and wine: a mixture that deserves a strong support from public authorities"
he commented.
"The wine industry in our country represents a very important aspect of our economy. Consider this,
he smiled,
our annual export of wine products represents the equivalent of selling 114 Rafale airplanes!

As for tourism, let's not forget that it represents 7% of our national wealth, more than 2 million jobs, and it is our best ambassador!"
Thus, under the leadership of Atout France, in partnership with the CSO (Superior Council of Wine Tourism), presided by Florence Cathiard, this portal was born,
"with a very French name"
states Laurent Fabius ironically,
VisitFrenchWine.com
.
57 tours and 17 major vineyards
Currently bilingual (French/English), this portal aims to be an essential and unavoidable tool for wine tourism amateurs.
"Because,
reminds the Minister,
in 2010, close to 3 million "wine tourists" visited France. We have the goal of seducing 4 million in the coming years."
Especially since wine culture is not only a product, but also the cultural and diverse aspect of our regions.
After one year and a half of hard work, according to Florence Cathiard, President of the CSO, the portal is finally up and running.
And, Christian Manteï adds,
"in three clicks only, the visitor can access all of the destinations offered on the site."
Currently,
57 "wine tours"
are listed on the website that will be changed constantly.
17 major vineyards (including Corsica since the Atout France president originates from the island) are included in the list presented to visitors.
Not only the "grand" ones such as accredited 'crus' wines, but also some smaller wineries that are often the "economic core" of some communities!
A strategic promotion tool of the wine tourism offer
Half-public thanks to State subsidies, and half-private thanks to high-quality partners, such as Relais et Châteaux, Mumm, Rémy Martin or Château Cordeillan Bages (can't list them all), the website will not only offer "touristic tours", but also provides
advice to wine lovers.
Especially, a method worthy of interest to make your own champagne!
"Not sure that the quality will be the same
, joked Christian Manteï,
but who knows…"
According to Atout France, confirmed by Laurent Fabius, this website is only a first step:
"we wish to make www.visitfrenchwine.com a window of French wine tourism and an essential tool of its wine tourism promotion strategy towards the general public!"
As for promotion, other than renewing the content constantly, the website will be well located on the website of
destination France
.
A quite interesting operation, even if it means tasting a 'grand cru' at 10 in the morning. The minister complied in good grace…and do did we!
VisitFrenchWine : quand le vin devient un produit touristique, ça peut griser !