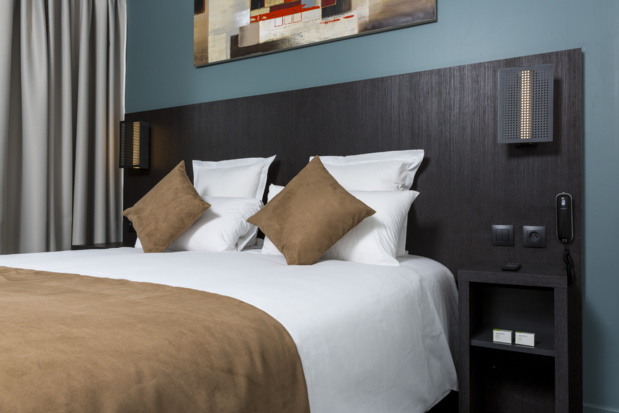 The network of 2 to 3 star facilities of the brand Balladins,
that has been on the French hotel market for over 30 years,
recently announced the renovation of its 2 star rooms.
Under its new brand strategy initiated 2 years ago and focused on the client, the brand of the group Dynamique Hotels Management is launching a wide renovation program of its
2 star category rooms between 2016 and 2017.
Indeed, fourteen branches will host their guests in sleeping spaces revamped according to the most current decoration trends: lines without frills, natural colors and more comfortable bedding, furniture with nobler material to make the rooms more welcoming and practical, which best responds to travelers' expectations.
With an average surface area of 15m2, each room was designed in a way to improve client comfort: audiovisual equipment, wifi, desk, closet, full-length mirror, a separated bright bathroom with a shower and toilet.
"We wish to bring on a fresh new look to the design of our 2 star hotel rooms, to reinforce our proximity to the client and be in synch with our promise: our guests must feel at home everywhere and that starts with rest!"
declared Alain Brière, President of Balladins Hotels. He had appeared on the show
"Patron Incognito"
(Incognito Boss - translator's note) on the channel M6 last November 2015 to play the role of the room service valet.
This immersion led to a major improvement priority: the full replacement of the bedding that was considered too low to the ground.
The key pieces of the rooms are
new beds, of superior quality, that will guarantee more comfortable and restful nights for the client as well as less arduousness for housekeepers, and room service valets.
With a height of 62cm and a 18cm thick mattress, they constitute a 2 in 1 layout, with the headboard also serving an as acoustically active head support.
Thought-out to make sure travelers spend a more pleasant time, the category 2 rooms of Balladins are part of the first step of the Balladins facilities' redesign effort since the lobby, hallways, breakfasts rooms will also soon be refurbished as part of this upgrading project.  
More Information
:
www.balladins.com
Nouveau look pour les chambres 2 étoiles du réseau Balladins