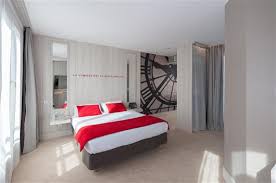 The 4-star boutique-hotel « 209 » is ideally located in the 12th district in Paris, near Bercy station, within minutes from Lyon train station.
At the foot of Dugommier Subway station (line 6), this hotel allows you to reach the most beautiful Parisian sites (Eiffel Tower, Champs Elysées, Trocadéro...) in no time, to eat in new restaurants and to enjoy Parisian entertainement. It also provides an easy access to famous AccorHotels Arena (Bercy Arena). A perfect place for all travellers!
A modern chic property
Refinement and modernity are keywords for « 209 » hotel. The property features a contemporary design and an audacious decoration.

Cosy and modern cocoon (free wifi access, high speed Internet, fitness room…), the «209 » hotel welcomes clients in a chic grey and red setting for a unique stay in Paris.

The 47 air-conditioned and soundproof bedrooms feature a refined contemporary decoration. Spacious and luminous, they offer esthetic and functional spaces. Mattresses and pillows are design to ensure an optimum comfort.

The "209" hotel also features a fully equipped 15-person capacity boardroom dedicated to conférences and meetings. The multilingual team ensures
a friendy and professionnal hospitality.



"209" Architect Thierry Rétif's vision
«I see this hotel as a house where artists (painters, architects, photographs) would mingle and leave a trace of their visit.

For instance, you can see gigantic white chalk sketches of XIXth century balusters on the restaurant's walls. Elsewhere, Street Art and photography gives the building a unique personality.

"209" Hotel is meant to be a place for dialogue and exchange around various subjects such as wine tasting, meeting with an artist... It will regularily host cultural events throughout the year to enhance the visitor's experience. »
For a French version