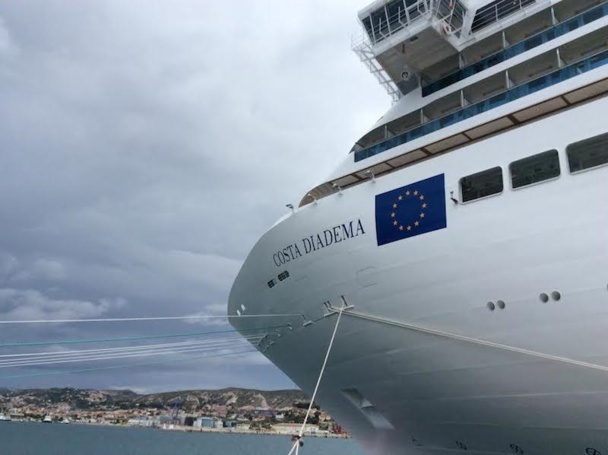 Wish to board a ship and navigate the world's oceans from Marseille?
This is now possible thanks to the Costa Croisières company that begins its three cruises from the port of the Mediterranean city.
"This is a great illustration of our commitment to the city"
exclaims Georges Azouze, France's president, during the first stop in Marseille of Costa Diadema, the group's new ship.
Costa has been in Marseille since 1996
, when it positioned the Romantic with 1,450 passengers.
"The Costa family hesitated in placing the boat here. Especially since the first time they visited the it, the crew members were on strike.

But the sailors accepted to take care of their boat. A noble gesture that impressed the family of shipowners"
remembers Jacques Truau, President of the Croisière Marseille-Provence Club.
Marseille, France's main cruising harbor
In 1996, Costa is the only cruise company in Marseille's harbor. It carries 40,000 passengers, including 8,000 at the start of the line.
Today,
close to 510,000 passengers boarded in 2014, including 227,000 at the start of the line.
"This convenience wedding became a true love story,"
smiles Jacques Truau.
In total, Marseille welcomed 1,340 million cruise goers, including 460,000 at the start of the line.
"The cruise sector is on the way of becoming the city's main economic activity because every passenger brings in an average of €138. Totaling an economic impact of 980 million euros between 1996 and 2013"
specifies Jacques Truau.
To attract companies, the city has not been conservative with resources and has been investing since 2012 close to 100 million euros and just started a second wave of construction worth 35 million euros.
Marseille can host 10 ships at the same time
Enough to finance installations that enable oversize ships to enter the port easily, under any weather conditions.
On their part, Costa and MSC invested 10 millions in the improvement of infrastructures, such as the passenger terminal and decks.
The Mediterranean city can now welcome 10 ships simultaneously, including 6 oversize ships.
The Allure of the Seas, the largest ship in the world (belonging to the Royal Caribbean Cruise Line) is scheduled to stop at the port in 2015 without boarding passengers however.
"Before American cruise companies take people from here, we will first need to establish regular lines going to the USA"
specifies Jacques Truau.
The last move involves convincing airline companies to set up in the city before having a large number of American tourists unloading in its harbor.