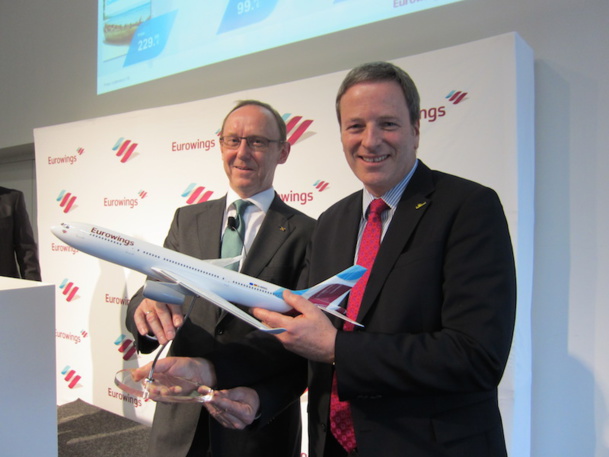 Karl Ulrich Garnadt, the CEO of Lufthansa and Andreas Bartels, Communications Director are presenting the new delivery of Eurowings planes, the most recent low-cost entity of the German group. DR-LAC
Eurowings: here is the name of Lufthansa's new weapon to fight low-cost companies.

The details of this project, announced last July, were revealed on Wednesday March, 4th at the ITB trade-show in Berlin.

This umbrella brand will regroup all of the point to point flights in Europe, entirely operated by Germanwings since January 2015, as well as new long-haul lines, operated by the branch, Sun Express.

"We had to find a solution to fight against the strong competition of low-costs and to regain growth" explains Karl Ulrich Garnadt, CEO.

We already knew about the Germanwings network in Europe. But the new long-haul company has just been revealed. It will operate, starting October 25, 2015, from the Cologne/Bonn airport in Germany.

It will program five popular destinations of the leisure market: Varadero in Cuba, Punta Cana in the Dominican Republic, Bangkok and Phuket in Thailand, and Dubai. These flights will be operated by two Airbuses A330-200 to at first to increase to seven aircrafts in total.

Of course, we're still far from the hundreds of planes with Ryanair or easyjet, but it's a good start. Especially since the offer should rapidly expand by summer 2016, by reaching out to the United States or the Indian Ocean.
Long-haul flights starting at €100 to Dubai
To launch sales, Eurowings is offering unbeatable rates with flights starting at €99.99 to Dubai, €199.99 for Thailand and €229.99 for the Caribbean, until next March 31st.
(see the box on rates.)
Tickets that are on sale now through the Germanwings website, that should turn into Eurowings by next October.
The group can offer such prices thanks to the
operating costs
of its branch Sun Express (shared halfway with Turkish Airlines)
40% below those of Lufthansa and 20% to those of Germanwings.
The savings are numerous:
a unique and recent fleet that will allow economies of scales, extremely low gas rates, but also wage conditions that are a lot less advantageous than at the parent company.
In fact, the development of the low-cost branch has been familiar with the multiple strikes started by Lufthansa's pilots in 2014, which may have cost the company 232 million euros.
Management insures, however, that there will not be any line transfers. It cites
the case of Vienna, where Eurowings will open its first foreign line for flights in Europe with two A320.
"
We're not going to cannibalize Austrian. On the contrary, Eurowings will enable us to redevelop on the routes where the company could not operate any longer due to lack of profitability. The director of Austrian is, in fact, happy of the arrival of Eurowings in the zone,"
insures Kal Ulrich Garnadt.
Developing a low-cost branch is, in any case, the only way to regain market shares on the point to point trafic, eaten up a bit more every year by low-cost competitors.
And the group hopes to make Eurowing profitable by 2017.
"It's a matter of having the right product, the right plane for the right clientele,"
insists the CEO.
A discourse and strategy that reminds that of Alexandre de Juniac, CEO of Air France-KLM.
But while Eurowings gives Lufthansa the opportunity to fight with equal weapons against low-costs thanks to its highly competitive operating costs, this is not yet the case for Air France with Transavia and Hop !
Eurowings: What services for a low-cost rate?
The Eurowings tickets are directly sold via the website, with very simple price options that are quite similar to direct clients or travel agencies.
"We could integrate the GDS, but this distribution channel is very costly for such a low-cost structure"
observes Jens Bischof, Sales and Marketing Representative at Lufthansa.
While everyone will be able to benefit from the entertainment features, those choosing the basic rate will have to pay extra.
This first price includes only one cabin luggage but no meal. The 30 inches seat will incline to 10 cm.
The second rate (smart) will include a 23 kilos checked luggage, a meal service, and access to the lounge.
For these two classes, a "more comfort" option will enable to benefit from a seat with more room for the legs (34 inches) and more inclinable (15 cm.)
The last class (Best) will provide two checked luggages, an "à la carte" meal service, and especially seats similar to those of Lufthansa's Premium Economy class.