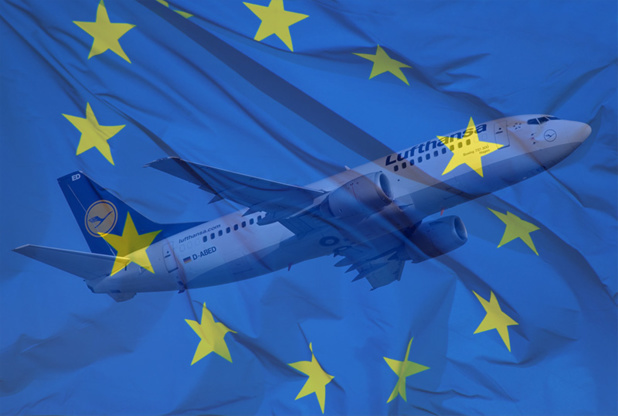 ECTAA will meet the representatives of the Lufthansa group next July 3rd in Frankfurt - Fotolia Author : Bernard GIRARDIN - Wikipedia Lufthansa
Since the announcement of Lufthansa's decision to increase the fees by €16 for reservations made via the GDS, nothing has really evolved.
French distributors have taken this announcement seriously, and it is now in the hands of ECTAA.
The European Association of Travel Agents and Tour-Operators, supported by the SNAV, is currently working on various legal avenues to counter the offensive of the German transporter.
In fact, next July 3rd, it will be meeting with the representatives of the Lufthansa group, in Frankfurt.
"We are continuing our legal advising, this can't be done on the back of an enveloppe, we need some time, but we have already uncovered a few approaches,"
specifies Michel De Blust, Executive Secretary of ECTAA.
The right to compete under the radar
The first consists in analyzing the application of free competition, compared to different lines operated by the group's companies (Lufthansa, Swiss, Brussels Airlines, and Austrian Airlines).
"The group Lufthansa could be in a dominant position on some routes, especially in Germany, Austria, Belgium, or Switzerland. If this is established, we can suppose that on these lines the rate increase will not be put in place,"
explains Michel de Blust.
The second avenue looks at the provisions of the article 23 of the European regulation 1008/2008 on air transport services.
This article specifies that air transport rates must be transparent, accessible, for consumers and travel agents, without discrimination based on the place of residence, and place of establishment, and that the consumer must receive, before paying, a final price that includes all of the costs.
"Currently, we do not know how Lufthansa is going to apply these €16, nor how these fees will be published, nor how the travel agent will be able to inform the consumer,"
highlights the Executive Secretary of ECTAA.
Can the B2B platform of Lufthansa resemble a GDS?
Finally, the third avenue studied by ECTAA concerns the European regulation that imposes a code of conduct of GDS.
During its announcement, Lufthansa indicated that agencies will not pay any fees by making their reservations directly on the website:
LHGroup-agent.com
.
According to Michel De Blust, this B2B platform could very well enter within the definition of a
"digitalized reservation system"
(SIR), established in article 2 of the regulation.
A SIR is a
"digitalized system containing information on, specifically, hours, available seats, and rates of various air transporters, and that includes or not means of making reservations or to issue tickets, in the extent that everything or part of these services are made available to the members."
What could this change?
"A 'parent' or 'owner' transporter of a GDS cannot discriminate against another distribution channel,"
reminds Michel De Blust,
"Yet, Lufthansa announced that its platform will not offer an additional fee, all while selling 4 of the group's companies that own separate entities, their own commercial identities, with distinct flight numbers, but also the lines of other transporters through code shares.
If Lufthansa's platform fits within the realm of the definition of a "digitalized reservation system," it is becoming a "parent" transporter and, in this case, it cannot discriminate against other digitalized reservation systems."
ECTAA should speak to the executive direction in charge of mobility, transport, and competition of the European commission, once this legal consultation is over.
"We are hoping, however, they will come to their senses next week in Frankfurt,"
announces Michel de Blust, to conclude.
Lufthansa, a well calculated media blow?
While the announcement of the increase by €16 of reservation fees via GDS is making the buzz, this isn't Lufthansa's first attack.
In 2009 already, the group had stirred the anger of German distributors by imposing a fee of 4.90 euros per segment to reserve some promotional rates.
With this new measure, it is pursuing a policy that was started years ago.
"The Lufthansa group has begun a task a long time ago that has the objective of decreasing distribution expenses,"
highlights an observer.
"By restructuring its network, and by moving a part of the flights to Germanwings, it was already a way to cut itself from the distribution. This low-cost company is sold very little via GDS,"
he adds.
"The announcement of the rise of reservation rates via GDS is a well calculated media blow, a way of saying that it is more expensive in agencies."
In fact, have agencies reacted by favoring, as predicted distribution networks, other alternatives?
It is hard to answer. The application of the raise will begin next September 1st. For now, and according to our information, no honest drop has been noticed in GDS sales since the announcement.
The results of the group are not, in any case, very impressive since the beginning of the year.
Fabrice Dariot of BDV.fr still specified that
"I have no reason to put forward a company on my website that could affect my operations. The risk is to bring publicity to a transporter, and then for clients to buy from it directly."
He adds
"I am surprised when I see all of these European companies complaining about unfair competition to the Gulf companies, when they're only thinking about harassing distributors. Especially because I have great agreements with the Gulf companies…"
For Michel de Blust, Lufthansa's announcement is also a way to bring in the new norm NDC (New Distribution Capability), backed by IATA:
"Everything is related. The transporters hope to give clients rates that match their history, and not necessarily the lowest rates. Yet with a GDS, we still have the possibility of making anonymous requests…"
This battle is far from being over.