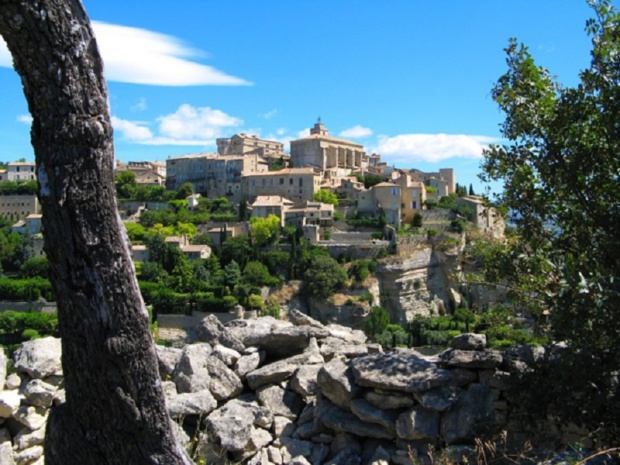 The CRT Paca intends to communicate on these 3 brands internationally - Photo : vouvraysan - Fotolia.com
For the first time since the establishment of the law NOTRe and the formation of new regions, Atout France concluded a partnership with the Regional Tourism Committee (CRT).
On Friday, March 25 2016,
Philippe Faure
, President, and
Christian Mantei
, Executive Director of Atout France were in Marseille to sign a convention with
Renaud Muselier
, the new President of the CRT Provence-Alpes-Côté d'Azur (Paca).
This agreement will be carried out over 3 years. It lays down the collaboration procedures between the national agency of touristic development and the CRT.
It aims at reinforcing the international promotion of
the region's three touristic brands: Provence, Alpes, and Côte d'Azur.
"The 3 brands of the Paca region are world-class. This is why it makes sense to sign the first convention here,"
explains Philippe Faure, President of Atout France.
Flourishing industries
A core element of this collaboration includes supporting flourishing industries for economic development.

This refers to major sporting and cultural events, business tourism, wine-tourism, and cuisine. But also golfing, eco-tourism, and skiing.

To do so, the CRT is integrating the Wine-Tourism, Nature Tourism, and Business Tourism clusters of Atout France.

The partnership also has the objective of stimulating investment. For this, the CRT will benefit from Atout France's engineering for the expertise work of some projects.

Furthermore, in relation to this, the convention is planning the development of an economic intelligence platform.
Objective +5 to 10% international nights over 3 years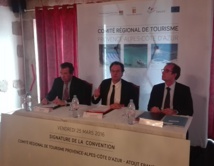 From left to right: Philippe Faure, President of Atout France, Renaud Muselier, President of the CRT PACA, and Christian Mantei, Executive Director of Atout France - Photo P.C.
"This is a wonderful chance for our region,
rejoices Renaud Muselier.
A strong opportunity to push forward what I consider the authentic lifeline of our regional economy."
He wants to grow touristic investment from 1.46 to 1.5 billion euros annually, accounting for
8 to 10%
of the sector's consumption in Paca.
The region also hopes to increase the number of local tourism jobs. There are currently 119,000 jobs and could
reach 125,000 by 2019.
Another goal set by the CRT Paca and Atout France: increase between 5 to 10% international nights in the region over 3 years. It currently has 19 million.
"This is an ambitious convention of broad and deep scope,"
summarizes Christian Mantéi. Furthermore, the Executive Director of Atout France boasts,
"this region is positioned in almost all the major touristic markets."
"We need a strong tourism policy"
On his end, Renaud Muselier regrets that tourism, an
"extraordinarily promising market was pushed aside for a long time in Provence-Alpes-Côte d'Azur."
Yet, as he announced, according to a recent survey ordered by the Regional Council,
97% of Paca's inhabitants believe that tourism is the region's main asset. 92% of them believe that tourism promotion is a priority issue.
"Tourism is an asset for France. And this asset needs to be organized in order to develop,
adds Philippe Faure.
Which is why we need a strong tourism policy."
In this respect, the partnership between Atout France and the CRT Paca is providing for the deployment of a major international communications campaign (see below.)
This effort is aimed at conquering new, highly contributing clienteles, retaining French and foreign visitors, and extending the time of their stay in Paca.
In the context of an agreement protocol signed on Friday March 25, 2016 in Marseille, the CRT Paca and Atout France are planning the establishment of several international events in 2016:

- Rendez-Vous in France, in Montpellier on April 5 and 6,

- 3 professional press missions on Continental China and Singapore from October 16-20, and on Poland on March 30th,

- The Best of Provence in London on May 18th,

- French Rendez-Vous, Austria-Peco on May 9 and 10,

- The "France: le rendez-vous" Workshop in Frankfurt (Germany) on June 10th,

- and 3 meetings of the CRT on the Spanish markets, on January 28th, and Chinese and Russian markets on April 7 and 9.