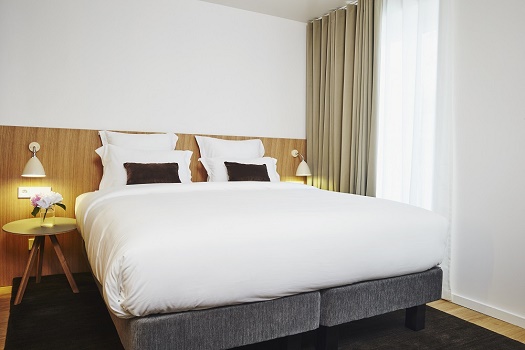 The 9Hotel République has 48 rooms - Photo : 9Hotel Collection
The address book of
9Hotel Collection
is expanding in Paris. Indeed, the group announced the opening of a
3rd hotel in the French capital.
The boutique-hotel
9Hotel République
is located at 7-9 Pierre Chuasson street, near the République plaza, in the 10th district. It opened its doors on December 9, 2015 after twelve months of renovation work.
This 4 star hotel has
48 rooms
: 4 Single, 16 Classics, 13 Superior, 9 Club and 6 Executive. It features an open lobby, a library, co-working spaces, and a fitness area. It also offers "Le 9", a bar opened 24/7.
Paris : 9Hotel Collection opens a hotel at Place de la République