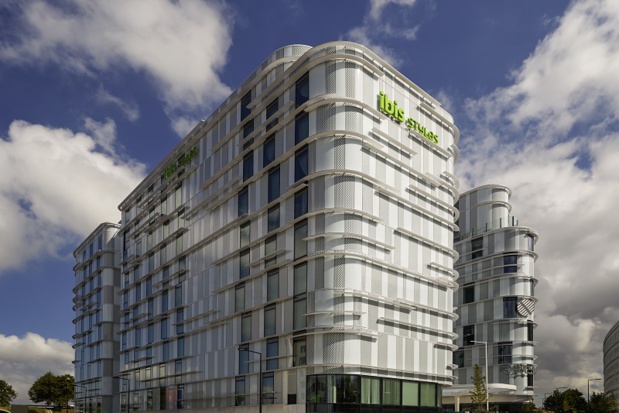 Through two openings in the airport zone of Paris Charles de Gaulle - the
Pullman Paris Roissy CDG Airport and the Ibis Styles Roissy CDG Airport
- AccorHotels crosses the mark of the 500,000th room in the world.
For this opportunity, Sophie Stabile, the Executive Director of HotelServices for AccorHotels in France, specified that the group was expecting to open
over 160,000 additional rooms
by 2020 (90% under franchise and management agreements.)
"Simultaneously to our dynamic growth in developing countries, we continue to be on the lookout for great opportunities on our historical market,
she specifies.
With over 1,500 hotels, AccorHotels is a leader in France and expects to reinforce its positioning on strategic zones such as airport spaces, where the group already operates more than 10,000 rooms."
New Pullman Paris Roissy CDG: 305 rooms
Conceived as a space for living and sharing, the Pullman Paris Roissy CDG Airport hotel is a clever mix of high-end style and comfort, and its ambition is to provide clients with a refuge for wellness in a cosmopolitan environment.

The 305 rooms and suites, of soft and natural tones, fuse functionality and elegance for optimal comfort. Furnished with a spacious bed, a flat-screen TV, a large closet, and a modern dressing table, the rooms evoke a "home sweet home" feeling.

At the "Culinaire Bazaar" restaurant, the Chef Thierry Coutable stars produce from the markets and works with suppliers from the region.

At the bar, the team offers a modern revival of drinks from the pre-war area such as the Rin Quin Quin from the traditional Distillerie et Domaines de Provence or even absinthe.

And as a finishing touch, let's add the pool, conference rooms with view on the runways, and the Fitness Center of 140m2.
The Ibis Styles Roissy CDG, a trip beyond borders
The new-born from the affordable brand Ibis Styles, the Ibis Styles Roissy CDG, created by the firm Blanchet d'Istria, is fun and laid-back.
Decorated in space theme, it induces clients to travel outside borders. One last stop before flying away.
The 305 rooms, decorated in a very soft ambiance with a backlit moon above the bed, provide a sense of timeless space.
As for eating, the hotel offers a fresh soup bar and restaurant: Moody's Plante.
Adapted to Leisure and Business stays, the hotel has excellent sound insulation, free WIFI, and a reception adapted to families with "mon coin récré," a play area for children.
Thanks to the opening of these two hotels, the Group is creating over
200 jobs in the Ile-de-France region.
Paris CDG : Accor inaugure sa 500 000ème chambre dans le monde