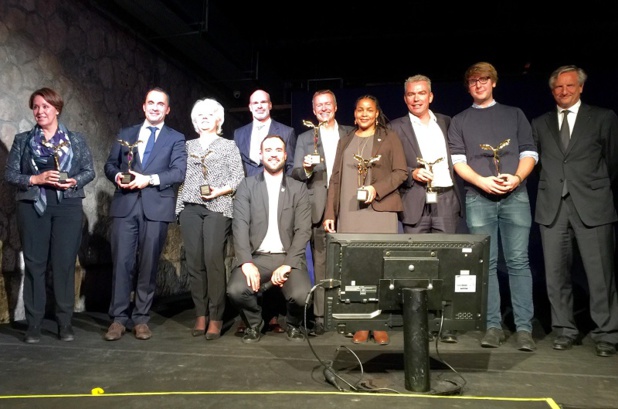 The winners of TourManagers 2015 organized by TourMaG.com - DR Photo JDL
On Wednesday, September 30th, 2015, for the 7th consecutive year, TourMaG.com awarded the TourManager trophies during the biggest annual event in tourism at the ShowCase in Paris.

It proved very successful, with over 10,600 votes that allowed to elect the year's best managers in 10 categories: online agencies, airline companies, cruise companies, destinations, distribution, DMC, hotels, service providers, production, and technologies.

The event also honored two young companies through the brand-new categories "StartUpTour of 2015" and "Innovative Company of 2015."

TourMaG.com gives a warm thanks to its loyal readers, tourism professionals, who, through their votes, gave recognition to the most dynamic and innovative "bosses," and acknowledged their professional success over the past year.
Winner Online Travel Agencies
Winner Airline Companies

Winner Cruise Companies

Jean-Emmanuel Sauvée - Ponant
Winner Destinations

Maïté Marie Antoinette - Guadeloupe Islands

Winner on Distribution

Laurent Abitbol - Ailleurs/Marietton

Winner DMC

Claudia Terrade - Quimbaya Latin America

Winner Hotel Sector
Alexandre Espitalier-Noël - Sun Resorts

Winner Service Providers

Winner Production

Nicolas Delord - Thomas Cook

Winner Technologies

Vincent Fouquet - Viaxoft

StartUpTour Winners
The first to receive the new StartUpTour prizes were also awarded during the Tour Manager 2015 event.

There were six finalists in the 2 categories: "StartUpTour of 2015" and "Innovative Company of 2015."

The prize for the most dynamic start-up, sponsored by Amadeus, was awarded to TravelerPark.

While the award for the most innovative company, backed by APST, was given to Planet Ride.