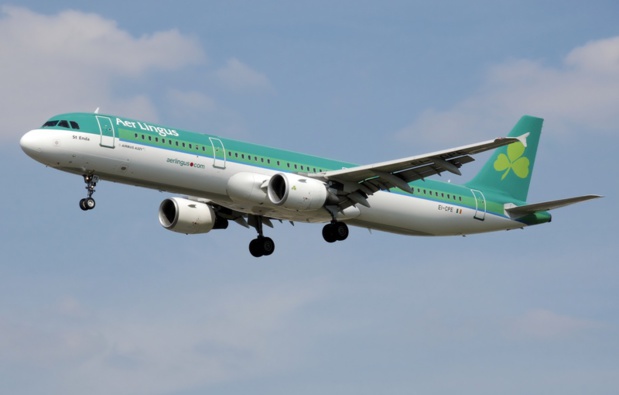 Aer Lingus offers European passengers to go through the entry procedures to the United States on Irish soil. - DR : Aer Lingus
Aer Lingus is pursuing its development in France.

This upcoming Winter, the Irish airline company hopes to increase by 15% its capacities leaving from Paris towards Cork and Dublin. And continue to serve Lyon, Nice, and Bordeaux daily (except for Tuesdays) from its capital.

During the summer, the company also lands in Toulouse (until October 24th), Marseille (until September 12th), Perpignan (until September 8th), and Rennes ( September 2nd for Dublin, and September 5th for Cork.)

Last May 6th, it opened a new seasonal line between Dublin and Nantes that is becoming the eight French town where its green and white planes are landing.

But it isn't only thanks to its lush green landscapes of its native Ireland that it hopes to seduce the French.
Promote its flights between Europe and the United States
Aer Lingus especially wants to put its transatlantic network forward.
"The passengers can go through the entry procedures to the United States on Irish soil. A major time saver and a very important sales argument for travel agents,"
explains Mike Rutter, the Business Director of the company, who was attending the CONNECT trade-fair.
Various cities are offered leaving from Paris-Charles de Gaulle: Boston, New York, Chicago, Orlando, Toronto, San Francisco. And until October 24th, it also operates flights towards Washington D.C.
In total, out of the 10 million passengers transported last year (+7%), close to 1.9 million have reserved their seat on a transatlantic flight. Amongst them, 30% came from Europe.
Soon a chosen ally with IAG?
For its clients to be better set-up during these long hours towards the United States, Aer Lingus inaugurated a new Business Class last January, on its Airbus A330.

The cabins of 12 to 24 seats are now equipped with 2 meters long fully reclinable beds along with free wifi.

Its short and medium-haul cabin should also be given a makeover thanks to the establishment of the Premium Class, that will include drinks, snacks, priority luggage, shorter lines, and lounge access.

With all of these investments, the company hopes to fight against the strong competition. And should soon find a chosen ally with IAG, its future owner.

Last January, the French-Spanish group launched a buyout offer of 1.36 billion euros. And Willie Wash, its CEO assures feeding major ambitions towards the Irish company, by developing not only its transatlantic network but also by opening up to its Asian destinations.

The only obstacle to this alliance: Ryanair. The troublemaker of air transport still refuses to give its 29.8% of the capital of Aer Lingus, despite a recent ordinance of the British authority on competition. It still has until July 24th to decide.