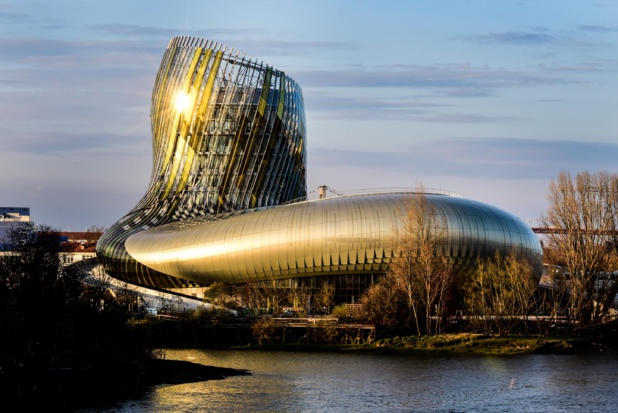 Bordering the Garonne River, La Cité du Vin is a building that must be seen, experienced, and visited. Photo Anaka la Cité du Vin.
The contemporary and very unique architecture of La Cité du Vin building is a place that must be seen, experienced, and visited.

Operated by the Foundation for the Culture and Civilization of Wine, a recognized public-interest organization, it is the only facility in the world to offer this type of approach to wine aimed at a large public.

Its focus is to recognize and transmit the cultural, universal, and alive heritage that wine represents.

Accessible to a vast audience, it provides free access to several exchange and living spaces. Visitors will be able to discover the building, enjoy the landscaped garden bordering the Garonne river, roam in the multiple exhibit areas, have a bite to eat, visit the souvenir shop, and relax in the reading room.

It is opened to all, to people with reduced mobility, families, international tourists. There is signage in three languages and the "travel companion" - the digital tool that guides the visitor on a customized visit - is available in 8 languages.

Located on the shores of the Garonne at the heart of "Bassins à flot" district, the new eco-neighborhood of Bordeaux, la Cité du Vin bears an environmental approach. 70% of its energy requirements will be met through green and local energies.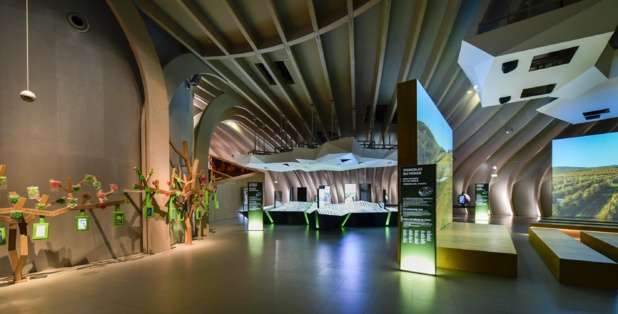 Entrance to the permanent circuit. Photo Anaka la Cité du Vin.
Departure point for the Bordeaux Wine Roads
Created with the ambition of becoming an emblematic area of activity and meeting for the inhabitants and visitors of Bordeaux and its region, La Cité du Vin is also
the starting point
for the
"Bordeaux Wine Roads."
On the ground floor, an information space allows visitors to get informed and reserve their visit of the vineyards.
Departing from La Cité du Vin, they can reach the Bordeaux vineyards through shuttles, their own transportation, or via the river thanks to river boats made available.
The
"Wine Roads"
information space is operated by the Bordeaux Metropole Tourism Office. Website in English and French:
www.bordeauxwinetri.com
What La Cité du Vin has to offer
Entrance to the building is free. Only the visit spaces, permanent circuit, belvedere, temporary exhibits, workshops, and auditorium require an entry ticket.
The Cité du Vin ticket:
full adult rate €20. It includes a visit of the permanent circuit with the "travel companion" available in 8 languages, access to the belvedere which is the culminating point of La Cité du Vin providing an exceptional view onto the city of Bordeaux and its surroundings, and a glass of wine from a selection of 20 international wines.
The temporary exhibit ticket (starting 2017):
full adult rate at €8. It provides access to the temporary exhibits.
The workshop ticket:
starting at €15. It provides access to 9 subject areas that offer different experiences around wine tasting.
Opened everyday from 9:30am to 7:30pm.
To know more visit:
www.laciteduvin.com
Key figures

The total cost of La Cité du Vin amounts to €81 million tax excluded, of which €55 million went to the construction and the scenographic installation (a collaboration between the Parisian architecture firm XTU and the English scenography agency Casson Mann.)

For the conception and construction phase: it took 3 years of work, hiring nearly 50 companies. 19% private funding. Over €36 million of created wealth. 685 FTEs (Full-Time Equivalents) annualized, meaning 225 jobs over 3 years.

For the operation phase: 450,000 expected visitors. No public funding. Around €38 million in created wealth every year at cruising speed. 750 sustainable jobs created including 250 direct jobs.

81% of the funding was brought in by the public sector : public and institutional collectivities, the city of Bordeaux as project owner (38%, Europe via the Feder, The Inter-professional Wine Council of Bordeaux, the region ("Grand Aquitaine"), the Gironde department etc.) 83 sponsoring firms represent the private sector accounting for 19% of the construction's funding.

From the opening, the funding will be covered by its own revenues (ticket sales, store, renting out spaces and private operator rentals to which sponsoring will be added.)