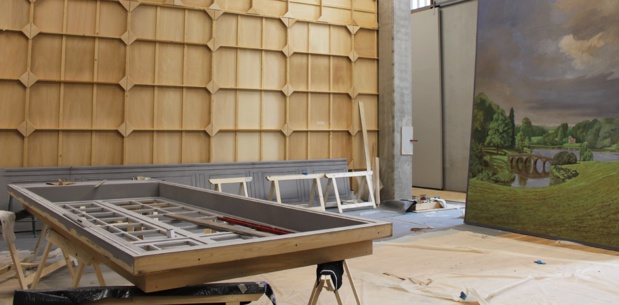 Aubusson's departmental tapestry museum is being renovated. It will reopen next July 10th. It provides a visit through different spaces.

The "Nave of the drapes"

A key space of this new exhibit itinerary, the Nave of the drapes is an invitation to travel back to the century and a half of Aubusson's tapestry production.

The tapestries will be staged in their original context thanks to stagecraft inspired by theater decoration techniques, enabling a true immersion into Aubusson's textile world.

"Aubusson's hands"

This space devoted to the expertise of Aubusson's tapestry will present the work all the sector's professionals, from spinners to conservators. In this way, it responds to the mission of expertises and techniques recognized by UNESCO.

Tapestries of the World

This room will be devoted to the textile expression of different regions in the world through a unique stagecraft created by Frédérique Paoletti and Catherine Rouland.
A functional architectural project
The building of the former Aubusson National School of Decorative Arts (ENAD), conceived by Robert Danis in 1969, will house the new cité international of tapestry.

"Rehabilitated, it bears a modern architecture that reminds of the world of tapestry. It builds a new identity around colors, a symbol of energy and renewal.

On par with the radical transformation of the building, highlighting an edifice that is over five centuries old is paired with the presentation of the astonishing Contemporary Tapestry Fund, that shows the extent to which the medium of tapestry can be current," explains Béatrice Faury from the Creuse CDT.
Practical Information
Cité internationale de la tapisserie
Rue des Arts
23200 Aubusson
Phone: +33 (0)5 55 83 08 30.
www.cite-tapisserie.fr
Opening hours of the future Cité
Off season
(September to December and February to June)
9:30am-12pm and 2pm-6pm everyday except Tuesday
Weekly closing on Tuesday
July and August
10am-6pm everyday except Tuesday morning
Weekly closing on Tuesday morning
Free guided visits, no reservation necessary, at 11am, 2pm, and 4pm.
Rates
Full rate: €7
Reduced rate (students, seniors over 65): €5
Free for children under 18
Groups: €25 from 10 to 15 people; €35 for 16 to 50 people; €25 per additional bracket (1 to 50 people)/ Duration: 1h30 (can be shortened to 1h upon request.)
Getting to Creuse?
By car:
North-South Axis: Paris - Limoges A10/A71/A20 Paris/Vierzon/Châteauroux/Limoges (Exit la Souterraine). East-West Axis: Poitiers - Clermont-Ferrand N147/N145/A71 Bordeaux - Lyon A89
By train:
Paris - Gare d'Austerlitz : Line Paris - Limoges. Stop at Gare de La Souterraine.
By airplane:
Limoges-Bellegarde Airport. Paris / Limoges Air France flight (3 daily roundtrips).