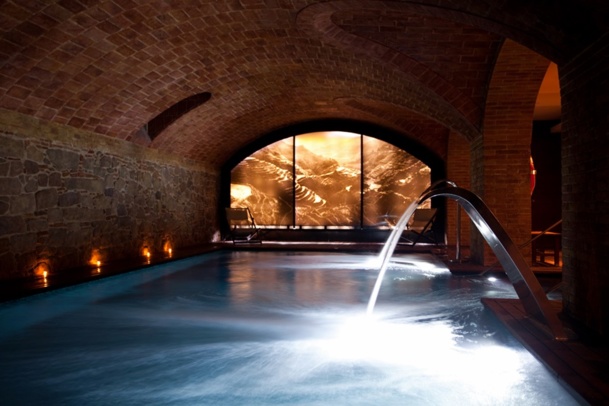 Hotel H1898 is synonymous with history, distinction, culture, exclusivity…and, thanks to the unique spa housed within, it is also synonymous with relaxation.
Located in the former warehouses of the Philippines Tobacco Company, this water area is surprising because of its unusual architecture and the atmosphere of peace it exudes.
In addition to a heated pool, this thermal space also offers bubble beds, therapeutic water jets, a sauna and steam bath, as well as an extensive menu of therapies and treatments inspired by the Silk Road, with sensual rituals and reminiscences of the Orient.
Exfoliate your skin, relax your muscles, receive a nutritional boost, reactivate your blood circulation, regenerate and rejuvenate your skin, improve elasticity, restore postural balance and flexibility, enjoy softness and luminosity of the whole body…
Seductive aromas, unique textures and exotic wraps complete this multi-sensory experience. The hotel has recently created the Reflexology Pack, an irresistible offer that combines the relaxation quality of this ancient technique with the most pleasant accommodation possible.
Reflexology works with the body's reflex points through an intense treatment applied to the feet. In addition to this relaxing session, the pack also includes accommodation in a superior double room and a delicious breakfast buffet in the hotel's restaurant, and is available at
very attractive price.
The H1898, housed in the former building of the Philippines Tobacco Company located right in the middle of Barcelona's Ramblas, offers the very best amenities and services to ensure guests enjoy maximum comfort and quality during their stay in the city.
Website :
www.hotel1898.com