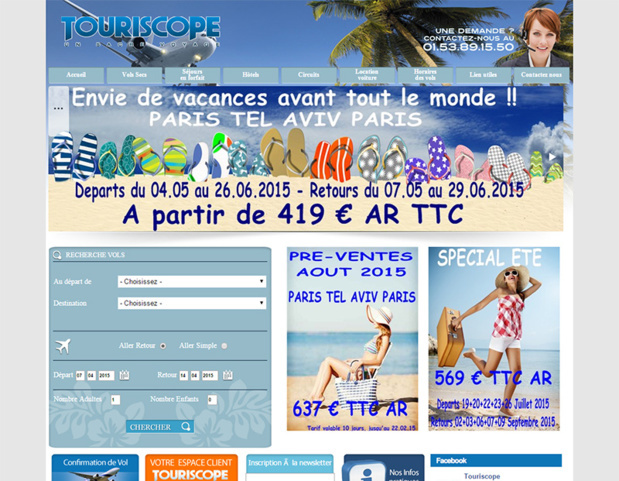 New products, a digital brochure, the creation of a B2B website… Touriscope is going through a serious "makeover" - DR: Screenshot Touriscope
TourMaG.com - You have joined Touriscope 2 months ago. What is your mission?
Marc Abergel:
I work with
Touriscope
as an advisor in touristic development and marketing.
My mission consists of boosting the activity of tour-operating on Israel, because we noticed a major drop in results in the last 18 months.
In fact, I have just returned from a 10-day trip in Israel which enabled me to rekindle relations with our partners, and create new contacts.
The native clientele is always ready to meet with us, we sell a lot in B2C, but we hope to regain our market shares in B2B, and reestablish bonds with the agencies who typically worked with us on the destination.
TourMaG.com - How are you going to reach these goals?

Marc Abergel: We are going to concentrate on different axes: the development of new products, that will go hand-in-hand with the release of a new digital brochure, the creation of a new B2B website that will be distinct from the B2C site, and greater participation in trade shows.

Our new products include city breaks in Tel-Aviv with promotions on accommodations and excursions.

We will also create additional theme-based tours around culture, sports, etc…, on top of pilgrimage tours and the Biblical Route.

As for air transport, we are maintaining our collaboration with the company Arkia for charters.

All of these new offers will be gathered in a digital brochure with competitive prices and commission rates at 13% for travel agencies, and 7% discounts on "dry seat" flights.

We will premiere our brochure at the IFTM Top Résa, in October 2015, at the stand of the Israel Tourism Office, that is supporting us. It will also be an opportunity to introduce the new version of our B2B website, that should enable us to respond more quickly to quote requests.

TourMaG.com – Are you thinking about diversifying your production?

Marc Abergel: Our priority is keeping our spot as the number 1 tour-operator specialized on Israel, so we have to reaffirm this destination before thinking of opening towards others.

Previously, we marketed Cyprus, for example. But for now, we would rather stay in a controlled niche: the Dead Sea, wellness vacations, Eilat…

Touriscope still benefits from great popularity, we know its strengths and weaknesses. And fortunately, the core of our native clientele is still loyal to us.

It accounts for 70% to 75% of our sales, including "dry seat" flights and stays.

We are now hoping to establish links with travel agencies, starting with large-scale distribution.

The province won't be left aside, however, since the Bordeaux-Lyon-Marseille axis represents an important triangle of our native clientele.